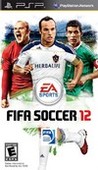 Summary:

FIFA Soccer 12 brings to the pitch a new game-changing Player Impact Engine, which is a physics engine built to deliver real-world physicality in every interaction on the pitch.
Developer:

Electronic Arts

Genre(s):

Sports

Cheats:

On GameFAQs

Rating:

E
Please enter your birth date to watch this video:
You are not allowed to view this material at this time.
Same menu structure, the same game modes, animations unchanged - an update most attractive for absolute beginners or fans who have only just gotten a PSP. Still a great game despite not being that different from FIFA 11.

EA Sports surprised us with the decision of not realeasing a stand alone game for the new EURO Cup, but it was a great decission. This DLC adds just what FIFA 12 needs to cover the tournament and let us live the ambience in the stadium right from the UI. The best way to keeping us attached to the game for some more hours, but maybe not as cheap as we expected.

FIFA 12 is FIFA 11, with rosters updated. Useless you already own an older episode, but it is still a fun game for a few days.
Gameplay: 8/10
Graphics: 7/10 for a PSP game.
Controls: 8/10 Easy and with tricks Improvements: 1/10 see below Average: 6/10 Fifa 12 on PSPGameplay: 8/10
Graphics: 7/10 for a PSP game.
Controls: 8/10 Easy and with tricks
Improvements: 1/10 see below

Average: 6/10

Fifa 12 on PSP is Fifa 11 with updated rosters. No improvements or anything or even infrastructure that has been missing since Fifa 11. FIFA franchise should put more efforts into itâ

…

Expand

The PSP version of Fifa 12 is just rubbish. Absolutely no improvement from Fifa 11. It seems they just did not care much about PSP. All those

The PSP version of Fifa 12 is just rubbish. Absolutely no improvement from Fifa 11. It seems they just did not care much about PSP. All those Player Impact Engine, Precision Dribbling and Tactical Defending are nowhere to be seen. Not even a tiny fraction of those. Quite simply i waster $39.99 to buy Fifa 12 when i was better with Fifa 11.

…

Collapse