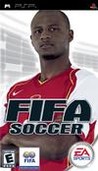 Summary:

Get on the Pitch and Go: Including Head-to-Head play featuring Friendly and Home and Away modes, plus Challenges mode, Season, Mid-Season Scenario, and Custom Season modes, Tournaments, and Custom Tournaments. Mid-Season Scenario Mode: Throw yourself in the middle of the action as you play

out the rest of the 04/05 season with current real-time team standings. Challenges Mode: Master key game scenarios in the newly designed Challenges mode. Wireless Head-to-Head Gameplay: Play one-on-one against a friend in any game mode. EA Pocket Trax: This new feature designed for PSP allows you to listen and watch music content via this built-in player. [Electronic Arts]

…

Expand

Developer:

EA Canada

Genre(s):

Sim

# of players:

1-4

Cheats:

On GameFAQs

Rating:

E
We're floored by the effort; if EA Sports can fix a few minor niggles and implement ongoing audiovisual upgrades, we expect big things from the series.

Bottom line, the game is fun to play. It is one of the reasons I do split time playing FIFA and MLS.

When all is said and done, then, FIFA Soccer for the PSP is not only a great portable sports game, but a great sports game in its own right.

Aside from the actual soundtrack, on the pitch noises are quite fine. Commentating is good and keeps up rather well with the action.

The pieces are here there's just not enough polish and attention to detail to make this a heavyweight PSP soccer game.

The effective loss of the "First Touch" control due to it's placement on the D-pad is a major blow to this game, and the frustration is only exacerbated by the graphic hiccups and long load times.
What a wicked game. Truly one of the best ports to PSP yet, they managed to bring along all the big features from the console experience such

as season play, Great commentary and sound. As well as some features that are found only on the PSP platform. A must buy!

…

Expand

GREAT SOCCER GAME, with really easy controlls, i don't understand why a lot of sites complained about the controlls. this game has

everything a soccer fan can crave for.

…

Expand

This game has great grafics and is easy to control plus it's fun.

Good game ez to learn but teams are out of date now roll on pro evolution.

It's probably the best soccer game you'll find on ANY handheld so you can't expect something that you play on the consoles.

Good for a handheld-but a portable Winning Eleven/Pro Evolution Soccer would kick it's arse.

itz pratically like sh!t... the controls are so bad , the loading time is so slow... wth . This is the WORST game i ever bought out of my 17 games.