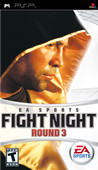 Summary:

Go toe-to-toe with greats such as Ali, De La Hoya, Joe Frazier, Bernard Hopkins and Roy Jones. Outside of the ring, gamers can establish intense rivalries through pre-fight events putting purpose and passion behind every hit. Three new Impact Punches a la the EA Sports Haymaker keep gamers

at the edge of their seat as players are only one punch away from the entire dynamic of the fight changing. Land a perfectly timed Flash KO or jump into a quick mid-fight mini-game to land a humiliating knockdown punch. Thrown using EA Sports Fight Night's innovative analog punch system, Impact Punches are high risk and high reward - put down your opponent or get knocked on the canvas. Boxing's Greatest Rivalries - Watch ESPN Classic footage of real-life bouts or re-create the greatest fights from past and present including Arturo Gatti vs. Mickey Ward, Marco Antonio Barrera vs. Eric Morales, and Ali vs. Frasier. Establish intense rivalries of your own by intimidating opponents before the big fight with heated press conferences full of hype, trash talkin', and fights at weigh-ins. Relive the best rivalries of your career in ESPN's Instant Classics! Create a style of your own, then see how you match up against the authentic signature styles from the world's best fighters. Licensed boxers use tactics and strategies that match their real life counterparts. Self Determinant AI adapts its style to match user strengths and to exploit weaknesses. [Electronic Arts]

…

Expand

Developer:

EA Chicago

Genre(s):

Boxing

# of players:

2 Online

Cheats:

On GameFAQs

Rating:

T
It's going to take some time to learn the ropes but there's a deep game with lots of replay value waiting for you when you become one with the control system.

A spectacular boxing game that moves beyond a lot of the systems prior limitations.

You'll be amazed by the visuals and satisfied by how well its been converted. [Apr 2006, p.80]

Depth, and oddly enough, simplicity, have been sacrificed for portability, making this a mixed bag when all is said and done.

An adequate port of an outstanding console game.

The Rival Challenge mode is a blast, and it's perfect for blowing off a little steam and killing time in the process.

For those willing to endure the poorly-translated control scheme, the career mode is rather well done, as are the Rival Challenges, which really lend themselves to the short burst gameplay that's crucial to handheld.
This game is one of the best PSP games on the market. Awesome graphics, great interface! From your trainer yelling to your cutman helping you

do battle the next round from your own honey of an entoruage who helps recover from knockdowns this game is very detailed. Only drawback is when fight ends in a TKO the game freezes and then a wide shot of the ref stepping in is not very smooth and my hands are sore from playing the game so much.

…

Expand

A must have game, the best grapics I have seen yet on psp system, The action is real, the boxers look Great. If you love boxing you must go

out and get this game right now if you dont already have.

…

Collapse

a must have if you like fighting non button mashers. i noticed the controls were easier to master and the frame rate was satisfying. Graphics

seemed to pop out nicely and the boxers looked great! boxer lineup could have been better. i enjoy the feel of the punches and haymakers. hate to admit it but this game's staying in my psp drive. i actually like not having to use the dual analog that way i can concentrate on timing my jukes and blocks for counter punches. a perfect psp addition because of the pick up and play feel. response is pretty good sice it seems faster pace than it's older brother.even if your not a boxing fan ....heck who isn't a boxing fan?if you're a fight night gamer always on the go, this a great addition to your psp hardware!

…

Expand

Compared to its consle counterparts, the boxing is smooth. This is one of the best games for PSP to date. Create a boxer and get ready for

some serious play time.

…

Expand

Best Game i've played on the psp... i rented it from blockbusters and i had to buy it ASAP! I've had for couple nows and it doesnt

get anymore better than this.. amazing graphic, real time movement and absoluate no limitation... 9/10 thats my score.

…

Expand

When I first put the game in, I was shocked by how good it looked. These are some of the best graphics I have seen on the PSP. Ther action is

fast, the controls are responsive and the fighting is fierce. Though the PSP has a limited number of "real" boxers, it lacks nothing in the "Create a Boxer" mode. I easily give this game an 8.9 and with a larger stable of boxers, it could have easily scored in the high 9's. Buy this game.

…

Expand

Great boxing game. Better than some other reviews have given it credit for.