Publisher:

SCEA

Release Date:

Aug 23, 2011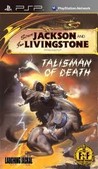 Summary:

This PSN-exclusive version of Fighting Fantasy: Talisman of Death features a Tarot Card character generation system, and the classic dice-rolling rule set you know and love, with optional all-new Battle and Test Your Luck systems for bold adventurers to explore.
Developer:

Laughing Jackal

Genre(s):

Action RPG

Cheats:

On GameFAQs

Rating:

T
Fantasy at its best – go and get this one.

A faithful conversion from page to screen in almost every way. While the journey is troubled at times by a brutally unforgiving role playing philosophy, it's still one you'll want to take time and time again.

I can't imagine that many people will want to read their games these days. [Dec 2011, p.103]

Fighting Fantasy's writing doesn't do much to differentiate itself from the stock fantasy novels that litter bookstores, but the novelty of seeing what amounts to an e-book with branching paths and light RPG elements may be worth five dollars.

The way the game manages to weave simple RPG mechanics on top of the narrative works surprisingly well, even if, ultimately, it all feels like a curious throwback to the days when even the most basic graphics were something of a luxury.