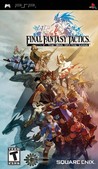 Summary:

[Metacritic's 2007 PSP Game of the Year] Originally released in 1997, Final Fantasy Tactics: The War of the Lions is a portable update on the classic turn-based strategy game that gave birth to the world of Ivalice. In development exclusively for the PSP system, FINAL FANTASY TACTICS: The L

ion War features PSP system exclusive content not found on the original classic including all-new CG sequences, all-new jobs, new 16:9 widescreen presentation, new head-to-head multiplayer and new storyline elements that refine the genesis of the IVALICE ALLIANCE. [Square Enix]

…

Expand
Developer:

TOSE

Genre(s):

Turn-Based Strategy

# of players:

2 Online

Cheats:

On GameFAQs

Rating:

T
A masterpiece of art and design. Its technicalities might take a little time to get to grips with but, once understood, this distinguished and exemplary video game demands to be savoured and adored.

Combine its lengthy single-player experience with the new co-op and head-to-head modes, and you can't help but love this classic reborn.

A rare breed. Despite being a veritable grandfather of console RPGs, a galvanized retranslation and timeless gameplay make for a feline that simply refuses to age. If you missed it the first time, don't miss it again.

Whether you have the PSone original or have just begun to appreciate the value of a great strategy/RPG, Final Fantasy Tactics: The War of the Lions is not a must-play release – it is a must-own.

Overall, FFT: The War of the Lions is an impressive port to the PSP. A solid title is always welcomed in the rather hungry for games handheld and this game packs so much content you'll be busy with your PSP for a while.

War of the Lions is a good game, but players who've never played Final Fantasy Tactics might find it a bit old and cumbersome, while veterans may find the new game a little scant on new content.
I just bought this game. Didn't even play it yet. I'm sure I'll love it. I'm giving it a 10 because I tend to be forgiving

to the flaws of a game and really enjoy the good parts. And the whole reason I am leaving a comment is because some of these low scoring reviews by other users are unthoughtful, uneducated and unfounded opinions that reflect the absolute embarrassing fact that all they know how to do is seek out unhappiness. Or in short, they are part of the ever growing group of gamers who seem to hate games. I don't get it, but I see it every day. Sorry this post is hardly relevant.

…

Expand

Simply an amazing portable system game with an interesting story mixed with a fantastic class system. This game takes you to many places and

presents itself with a very fine-tuned cinematic sequence. In response to GlennG.'s review, I must say I completely disagree as I have played Jeanne D'Arc and find WotL to be a much more enjoyable experience.

…

Expand

Let us see, I have sunk 190 hours into and I am still finding things to do, the replayability borders into the insane, The main story will tak

e about 30 or so hours to complete, then level your party to 99 takes quite a bit of time. Finally getting Mastered Dark Knight is one of the greater feats of this game. A level 8 Onion Knight is the other. A master of magics with an Arithimatics special ability.There is just so much to do after you beat the game, there is even an added dungeon called Midlight's Deep where you can learn the fabled Zodiarc summon. A new multiplayer mode with hundreds of great items, some exclusive. Grab a friend and play, or for the extremely hardcore, just get a second psp, maybe you need an upgrade anyways? If you are a completionist this game will keep your plate full for a long long time. Anyone who gives this game an actual zero is just plain ignorant, especially if they claim this game was their favorite game. This was one of my favorite games from the Psone and I welcomed the new victorian english dialogue, it made the playthrough more interesting, instead of guessing every line. I enjoyed 12 as well, props to putting in *Spoilers* Balthier! *Spoilers* Anyways if you give it anything less then like a 4 you are just plain donkey and an attention who.re trying to purposely bring one of the greatests games of all times rating down just because you can.

…

Expand

This game is addicting, and well worth your money. This game will annoy some games with it's supreme difficulty. If you don't mind

challenge, pick this gameup for the PSP.

…

Expand

I played FFT on the PS1 way back when, and Square Enix has basically ported over the exact same game, with a tweaked script and some cool new

anime cut-scenes. If you liked the original game, then you'll enjoy this just as much (I'm guessing that the review scores are reflecting lots of nostalgia for the old release). The bad? The game hasn't changed. The graphics, after the fantastic JEANNE D'ARC, look positively SNES-- The text is tiny and hard to read, the battle stages are small, and the characters have no personality. OK, I freely admit that JDA was my favorite game so far this year, and for me, this simple re-release of FFT just pales in comparison. Your mileage may vary.

…

Expand

This game is too hard without cheats!