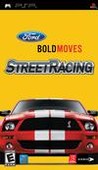 Summary:

(Known in the UK/EU as "Ford Street Racing: LA Duel") Now featuring 24 officially licensed Ford vehicles, classics such as the 1971 Mustang Mach 1 join the already prestigious roster, as well as scorching hot supercars like the 2005 Shelby GR-1 Concept. The Maximum Team Control Racing

(Known in the UK/EU as "Ford Street Racing: LA Duel") Now featuring 24 officially licensed Ford vehicles, classics such as the 1971 Mustang Mach 1 join the already prestigious roster, as well as scorching hot supercars like the 2005 Shelby GR-1 Concept. The Maximum Team Control Racing features have been expanded to 11 different modes, each designed to exploit different aspects of team racings such as blocking, drafting, and switching. Multiplayer has also been enhanced to include both team and solo racing options, utilizing the wireless capabilities of the PSP system for high velocity head-to-head racing battles. [Eidos Interactive]

…

Expand
Developer:

Razorworks

Genre(s):

Driving

,

Racing

,

Simulation

,

GT / Street

,

GT / Street

,

Automobile

# of players:

2 Online

Cheats:

On GameFAQs

Rating:

E
Yep, best version of the game. That may not be saying much for those who are looking for an exceptionally deep racer, but for $20, this is the perfect value-priced racer.

It's short, not overly challenging, and is a little repetitive. But you won't find a better twenty-dollar racer for PSP.

Unfortunately, the lack of unique tracks and insane AI will keep this title from competing with the upper echelon of PSP racing titles.

Even if you love the Ford license, this game will just be a waste of not only your money, but your time as well.

A surprise and a disappointment at the same time. The in-game visuals far exceeded what I was expecting, but the arcade racing soon becomes rather dull and repetitive.

Possesses the bare minimum requirements of everything a modern racer should have and unfortunately nothing more.

The AI driving your other car is just as bad as the one driving your opponents so you spend most of the time flicking between cars just making up for how the AI seems to lose your hard won position as soon as you leave it in control which takes all the fun and tactics out of it, you still have to admire the idea though and it would be nice to see another game pick it up and develop it properly.
I going to say it, even though on all other consoles this game has been slated, and even though most people will probably ignore this

I going to say it, even though on all other consoles this game has been slated, and even though most people will probably ignore this game...I LIKE IT....its basic driving fun, absolutely the best most weighted handling I have ever played on any console...nice sometimes lovely graphics...8/10

…

Expand

While the handling of these vehicles is very well....um.... handled, this game is about as generic as the name 'FORD' itself has

While the handling of these vehicles is very well....um.... handled, this game is about as generic as the name 'FORD' itself has become. No music behind a race is hardly enough to condemn a title, but aside from engine noise, there is ZERO ambient sound. The graphics seem to have a screen filter over them which is most likely just the poor graphics engine itself. Even the 'REAL DAMAGE' as listed on the package is little more than a roughly colored texture which replaces the solid color of the car. Bleak. Even FORD fans should recognize there is little in the way of entertainment here and this can be passed by, even at the suitably budgeted price of $19.99

…

Expand
| | |
| --- | --- |
| 84 | #84 Most Discussed PSP Game of 2006 |