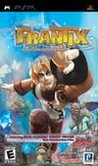 Summary:

Frantix is one of the first character-based 3D puzzle-solving adventures for the PSP system. Frantix offers frenzied puzzle-solving action, beautiful 3D graphics, more than 150 challenging levels for players to enjoy, power pick-ups, and a diverse array of monsters and unique obstacles. The

Frantix is one of the first character-based 3D puzzle-solving adventures for the PSP system. Frantix offers frenzied puzzle-solving action, beautiful 3D graphics, more than 150 challenging levels for players to enjoy, power pick-ups, and a diverse array of monsters and unique obstacles. The game features quick-paced action, surreal environments and challenging levels with deadly traps and dangerous hazards for a fun and captivating gameplay experience. [Sony Online Entertainment]

…

Expand

Developer:

Killer Game

Genre(s):

Puzzle

# of players:

1 Player

Cheats:

On GameFAQs

Rating:

E
The puzzles may not be very compelling once the initial stages are completed (i.e., once the developer's design and logic tendencies are identified), but there are a handful of levels here that are genuinely brain-bending and rewarding.

The "Frogger"-like way in which you move kind of sucks, especially when you have to run along a riverbed or around burning lava. [Nov 2005, p.96]

While that addictive quality that the best games of this genre have is missing, Frantix isn't a bad way to waste time. [Oct 2005, p.108]

There's no multiplayer to speak of, or any modes beyond the main single-player quest, for that matter. And the puzzles, while plentiful and reasonably well designed, can become frustrating due to funky control and camera issues.

Frantix is very linear in play, but is good if you have a few minutes to spare as most levels can be finished pretty quickly.

Frantix is a no-frills puzzler in dire need of a personality transplant.
The music kicks ass. It's rare to hear really cutting edge electronic music in a video game. Reminds me of the best of Autechre.

Give this puzzle solving game a chance...despite mixed reviews this game has some wondeful aspects. The graphics are seriously good and the

Give this puzzle solving game a chance...despite mixed reviews this game has some wondeful aspects. The graphics are seriously good and the contols are easy to master as it is the puzzle solving that is meant to test you. Some puzzles take only a few seconds to solve but this is not a bad thing because the next one will have you turning off your PSP in frustration only to turn it on again a few minutes later to have another go at what seems to be impossibly complicated. Touches like the inclusion of the ChubbChubbs short cartoon and massive number of puzzles/levels makes this worth the investment. Ignore the negative comments about jerks contol movements and wasted graphics and sounds - this game is worth it. Hopefully the sequel will contain a customizable sound/music option and a little more in character/storyline but overall there are so few true puzzle game out there, this one is a little gem.

…

Expand