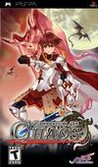 Summary:

Battles for world domination have been dragging on for generations. Now Allen of Zodia rises to end all wars and bring peace to the world. After the opening story, the player uses the strategy mode to build and strengthen the kingdom. In the beginning, the kingdom is small and weak. Howe

ver, as you progress through the game, the player can conquer neighboring kingdoms and stretch its ruling powers throughout the land of Duke. Unlike other RPGs for the PSP(TM), Generation of Chaos features massive, sixty-character battles as well as sneaky espionage tactics. Other features include: Massive 30 vs. 30 real time army battles; Customizable troops and commanders; Freedom to fight with or against neighboring kingdoms. [NIS America]

…

Expand
Developer:

Idea Factory

Genre(s):

Turn-Based Strategy

# of players:

1 Player

Cheats:

On GameFAQs

Rating:

T
Even if the game had been optimized more and some of the mechanics streamlined, this game would be a hard sell for most gamers. But, for those looking for a deep and challenging strategy title, Generation of Chaos will fit the bill.

All positives are undone by nasty technical problems like huge load times, slower than snail mail gameplay, and a story that wouldn't hold the attention of a lobotomized bag lady.

Suffice to say that this is a very complex game. For a statistician or a strategy/tactics aficionado, particularly fans of Disgaea-like games which nearly drown players in stats and quirks, Generation of Chaos will be well-received.

By no means a completely wasted effort, just one that fails to live up to its alluring potential.