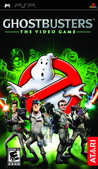 Summary:

Ghostbusters: The Video Game on the PSP offers the ability to switch between four equipment sets to access eight unique proton pack functions and use gadgets like the PKE Meter and Paragoggles to scan and analyze targets. Get pulled into the world of the paranormal, unleash your blast stream

and tear it up on the go. [Atari]

…

Expand
Developer:

Red Fly Studio

Genre(s):

Action

Cheats:

On GameFAQs

Rating:

E10+
Ghostbusters: The Videogame isn't a bad game, but had more potential. Empty levels, ghosts that move too fast for the psp to move along and the sound show the symptoms of an average port. The gameplay itself is rather varied and the cutscenes are wonderful. Too bad the PSP didn't get its own version of the game.

Disappointing when compared to the PS3 version and even other PSP games. Could have bee a lot better.

At the end of the day, Ghostbusters for PSP isn't a bad game but seems like a bit more work would have helped push this over the thresh hold.

We should've known that Ghostbusters on the PSP wouldn't be up to the standards of the console version. But the concessions are made in all the wrong area's. The cartoon-like looks make the nostalgic feelings disappear and the ghost hunting is plain boring. A bad port of the PS2-version, which in itself was a bad enough port.