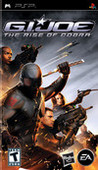 Summary:

As COBRA unleashes its deadliest plot yet, the G.I. JOE Team is counting on you and your hand-picked team of heroes to lead the counterattack. Every mission is critical and so is every G.I. JOE character. Picking up where the Paramount Pictures live action film leaves off, G.I. JOE The Rise

As COBRA unleashes its deadliest plot yet, the G.I. JOE Team is counting on you and your hand-picked team of heroes to lead the counterattack. Every mission is critical and so is every G.I. JOE character. Picking up where the Paramount Pictures live action film leaves off, G.I. JOE The Rise of Cobra is an accessible third person action-arcade shooter that allows players to recreate and relive the greatest moments from the film, cartoon series and action toy line. Exclusive all-new storyline that picks up where the film ends and is inspired by 45 years of rich G.I.JOE history. Two player co-op lets players choose an elite team and call in support from other G.I. JOE characters. Choose from 16 playable characters (four of which are unlockable COBRA characters) - each with a unique set of abilities and weapons. G.I. JOE characters include Snake Eyes, Duke, Heavy Duty, Ripcord, Scarlett, Shipwreck and Gung Ho. Storm Shadow has been revealed as an unlockable playable COBRA character. Characters are classified into one of three units: Commandos who do well at close range, Heavys who possess extraordinary shooting skills but do it best from a distance and Combat Soldiers who are a balance between the two. Gear up with the latest in high-tech gadgets like the film-inspired Accelerator Suit which makes you invincible and gives you short bursts of additional fire power. Drivable G.I. JOE and COBRA vehicles designed for two-player co-op. Three difficulty levels - appealing to players of all ages and skill levels (Casual, Advanced and Hardcore). 20 levels - each with 3-5 areas to explore - across four environments. 75 file cards and various intelligence items hidden throughout the game which can be used to unlock additional playable characters, special missions, 4 PSAs and other bonus content. [Electronic Arts]

…

Expand
Developer:

Double Helix Games

Genre(s):

Action

,

General

,

General

# of players:

1-2

Cheats:

On GameFAQs

Rating:

T
G.I. Joe PSP comes with a myriad of faults and only a small handful of redeeming qualities.

As a fan of G.I. Joe, I expect a videogame version to make me feel like a Real American Hero. This didn't come close. The gameplay is unexciting and the visuals uninspired.

The bad graphics, the not really spectacular control and the videos that are a bit boring, are making the game unconvincing. Maybe it is better to wait, until the price of the game is worth buying it, but at the moment you should better think twice about it.