Publisher:

Koei

Release Date:

Nov 14, 2006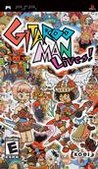 Summary:

Bus rides and train journeys will never be the same again with Gitaroo Man blasting out those power chords as he defends the universe from the clutches of Zowie and the Gravillian family. Utilising the PSP's analogue capabilities to brilliant effect the game will also enable players to

battle it out on two PSPs via wi-fi play or join forces in the brand new Duet mode. If you missed out on Gitaroo Man's first outing on PS2 this is your chance to indulge in a rhythm action experience like no other. [KOEI]

…

Expand

Developer:

Koei/Inis

Genre(s):

Music

# of players:

1-2

Cheats:

On GameFAQs

Rating:

E
I'm so in love with Gitaroo Man LIVES - it's a fantastically addictive game, repayable as long as you enjoy the music and the challenge, and with lots of difficulty levels and multiplayer modes in the form of Vs and Duet, people with a PSP wielding friend will be able to get even more out of the game.

One of the best music games on the PSP. Even along side some of it's more fancier competitors it easily stands alone, as a fun and enjoyable adventure with some of the craziest visuals and tunes to ever land on the PSP.

As is sadly the case most of the time, avid fans of the series will be disappointed and if you have already played the original then you will not want to buy this PSP version, as it offers you nothing apart from going through the experience again and an unnecessary hole in your wallet.

Maybe material that still feels as fresh, fun and challenging as Gitaroo Man Lives! still deserves an encore.

A glorious soundtrack and a fresh approach to the rhythm action genre makes this a winner - it's bloody hard, mind you. [Sept 2006, p.83]

Some of the best fun that you'll have on PSP, but not quite a 'must have' title. [Oct 2006, p.70]

A great game, a rhythm/music game that bends the genre in new directions with its creative design, heartily original soundtrack, and unique gameplay system. Not too much of it is new, but there is a little to explore here that's worth at least a few tries, even if you have to put up with some hiccups just to get past it. [JPN Import]
Gitaroo man and the Lives version on PSP are must have games, this is the only game ive ever gone out and bought the soundtrack to because the

songs just get stuk in your brain. I especially like the "metal header" song in the lives version on PSP.

If you have not played this game yet then what the hell are you waiting for, go do it now.

…

Expand

Before Guitar Hero, there was Gitaroo Man. The PSP version is more or less the same as the PS2 version (which is just about impossible to

find now). The music and satisfying gameplay are clearly the best part of the game, although I also found the cheesy storyline and cardboard box graphics quite entertaining (in a humorous way). If any game needed a sequel, it is this one.

…

Expand

This is an awesome game. I played the ps2 version and loved it. I couldn't wait to get my hands on a japanese import because in the U.S

is going to come out until next year. The PSP game has two extra stages that you play on the duet mode, and you also get to play the jukebox. This game has one of the best original soundtracks.

…

Expand

Awesome game, i really liked and is better and they add it more new thing like the multiplay u could duet start u could play with a freind or

with out a friend that the same thing for the vs start help ..i hope they made a new one because im getting my hand on the new one is coming out if they do made a new one..

…

Expand

Awsome game, i really liked Busta Grove and papa the rappa on the orginal PS, but this is even better than them. Shame there is no online

battle modes (Would have got a 10 then), but its good harmless fun never the less. I play guitar for real in my band, but this is a great way to pretend to play the guitar taping along to those riffs and licks is marvilous. The grafix are ok, the in game music is really good some of the best orginal game music out there (not including Loco Roco). Short lived in my opinion is the only real let down apart from lack of on line, but you can wifi to friends, so all is not lost. Its easy to start, then on master level its as hard. Fun, Cute, Funky. All you air guitar heads, will love it.

…

Expand

Another extremely good PSP game (hard to find, given how poor most of PSP's repertoire is) and one of the best rhythm action games

I've ever played. This is a conversion of a well-respected but little-known PS2 game and I think in many ways it has found its happiest home on PSP. The analogue slider suits the control system really well and for once it actually enhances the game (though long riffs will make your thumb cry out for a rest). Actually, that comment about thumbs is very appropriate. This game makes your thumbs bleed like they used to in olden days. It is a proper skill-based game and properly hard like games used to be. I no longer have the skills to excel at games like this (and probably never did if I'm honest). Also, my piano teacher would attest to the fact that my rhythm is not the best. But if you miss the old days when games were a challenge and you had to actually learn the levels in order to survive then I think you'll like this game. In this case you're learning songs and beats rather than enemy patterns but practice is essential and it really took me back to the good old days of gaming. As required in a music game, the music is excellent and varied. It all involves you playing the guitar part but goes through most genres on its way through its ten levels. The game also has that madcap appeal that only crazy Japanese games can have. The story is suitably bizarre and the characters are uniquely styled. Inspired by PaRappa, this game has come from people with equal amounts of imagination and vision. Unfortunately the game is cursed by that regular PSP affliction - loading times. The loads between levels seem to go on for ages and serve only to break the flow of the game. I'm sure this aspect at least would have been better on PS2. If it wasn't for that problem I would have thought seriously about giving this game a perfect score. It's quite fantastic in an old-fashioned, pure-gameplay sense. If you think you are up to the challenge and your thumbs know how to dance then this comes very highly recommended.

…

Expand

Great rhythm based game. Lots of style in cut scenes. Addictive songs and gameplay. This is a must play.