Publisher:

Konami

Release Date:

Jun 6, 2006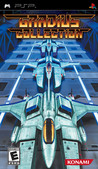 Summary:

Gradius Collection is a compilation of five beloved games in the Gradius series available for the first time on the PSP system. Spanning more than 20 years, the five games Gradius, Gradius II, Gradius III, Gradius IV, and the long awaited Gradius Gaiden (never before released in the U.S.),

deliver hours of classic 2D shooting action on the go. Taking advantage of the PSP system's technology, The Gradius Collection offers a Gallery Mode that is full of unique features. This includes the opportunity to view movies from various games in the series, as well as the ability to listen to the pulse-pounding music from each title. Additionally, gamers can choose their own screen orientation, giving them the option to view the game in the original arcade specs or use the full PSP system screen to increase the game viewing area. [Konami]

…

Expand

Developer:

M2

Genre(s):

Compilation

# of players:

1 Player

Cheats:

On GameFAQs

Rating:

E
Gradius Collection ranks high in the upper echelon of classic game compilations, featuring five exceptional shooters that will have you hooked from beginning to end and beyond, all for less than a standalone full-priced PSP title. If you love shooters in any shape, form or fashion, you'll be hard pressed to find anything better than this.

This is a great collection for fans of the series out there. For those of you that are new to the games, I have to recommend at least renting this one to give it a shot.

This is hardcore, fast and frantic shooting action at its very best and a great trip down memory lane.

So the Gradius Collection, with games free from alteration, is just about perfect. You might not like such demanding shooters as these, but the presentation is top notch and the gameplay enduring.

Considering that the biggest problems with this compilation are that the games are exceedingly difficult and don't offer a two-player mode, I'd say Konami has put together a winner with Gradius Collection. If you enjoy old school shmups; the kinds with spaceships; you'll feel right at home here.

In fact, for serious fans, I'd say the greatest credit to this title is that I couldn't discern any flaw or difference between it and the Gradius arcade versions.

Twenty years ago, it would have been worth forty bucks. But today, it's just another obsolete space ship, grounded in favor of better, faster rockets.