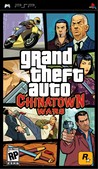 Summary:
Grand Theft Auto: Chinatown Wars is an entirely original entry into the critically acclaimed Grand Theft Auto series, and brings a new level of interactivity to its sprawling open environments. Players navigate their way through the streets as they uncover the truth behind an epic tale of crime and corruption within the Triad crime syndicate, delivering the unprecedented amount of depth that has become a true trademark of the franchise.

| | |
| --- | --- |
| Rating: | M |
| Official Site: | http://www.rockstargames.com/chinatownwars/ |
| Developer: | Rockstar Leeds |
| Genre(s): | Open-World |
| ESRB Descriptors: | Blood and Gore, Drug Reference, Sexual Content, Strong Language, Strong Sexual Content, Violence |
Designer/Producer/Programmer credits provided by
GameFAQs
.
If you contributed to this game and feel you should be credited, please read our
FAQ
.