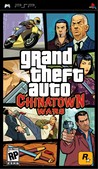 Summary:

Grand Theft Auto: Chinatown Wars is an entirely original entry into the critically acclaimed Grand Theft Auto series, and brings a new level of interactivity to its sprawling open environments. Players navigate their way through the streets as they uncover the truth behind an epic tale of

Grand Theft Auto: Chinatown Wars is an entirely original entry into the critically acclaimed Grand Theft Auto series, and brings a new level of interactivity to its sprawling open environments. Players navigate their way through the streets as they uncover the truth behind an epic tale of crime and corruption within the Triad crime syndicate, delivering the unprecedented amount of depth that has become a true trademark of the franchise.

…

Expand

Developer:

Rockstar Leeds

Genre(s):

Modern

Cheats:

On GameFAQs

Rating:

M
It may not rock the boat as much as it did on DS, but Chinatown Wars is still one of the finest examples of handheld action on the market.

The PSP version of this fantastic GTA game is even better than the DS original.

If you already have played the DS version to death, getting the PSP version may not be a good idea since it's basically the same game only with a few but noticeable improvements. Now, if you haven't bought or played the DS version, there's no way you can pass on what is being offered here. GTA Chinatown Wars for the PSP is a great game that deserves your attention and a place in your collection.

A perfect porting of one of the greatest portable games of this year.

Although Rockstar Leeds could have probably pushed the quality of this porting a bit further, Grand Theft Auto: Chinatown Wars proves to be an excellent game, capable of entertaining throughout the adventure. A real must buy for any PSP owner.

Substantial, hilarious and huge. Sadly, this port feels hamstrung next to the DS version. [Dec 2009, p.88]

With a visual downgrade and a quieter audio track, there is definitely something lost in the translation, and with Liberty City and Vice City Stories performing much more adequately, this PSP port may not have enough weight to keep it from drowning in obscurity.
Chinatown really packs a punch and makes GTA III look Old fashioned. The cutscenes are Retro style and the story is excellent. A worthy game

Chinatown really packs a punch and makes GTA III look Old fashioned. The cutscenes are Retro style and the story is excellent. A worthy game indeed and really should have an award for best agme on PSP.

…

Expand

If you didn't play it on ds, then this is a must buy. but I've played and finished the ds version, and when playing this one I got

If you didn't play it on ds, then this is a must buy. but I've played and finished the ds version, and when playing this one I got bored, since there isn't much change in gameplay. but psp version is the one to go since graphics and animations are way better than ds plus the bigger screen.

…

Expand

At first I was a little skeptical about whether or not i shuld get this game. I couldn't imagine gta with a top down view and there was

At first I was a little skeptical about whether or not i shuld get this game. I couldn't imagine gta with a top down view and there was so much that could go wrong. I am happy to say that all of my fears were unfounded and am thoroughly enjoying this game. I like this game so much that i think that this is the way to go with the portable series of gta from now on. This game really gave the series the fresh breath it needed. Great game and I recommend this to anyone looking for another great psp game to add to their library.

…

Expand

I like the return to top down while retaining lots of modern GTA features. Looks great on PSP. Also to Federico Aa, despite your moral

I like the return to top down while retaining lots of modern GTA features. Looks great on PSP. Also to Federico Aa, despite your moral objections, the game is fun. Go play "Hello Kitty Island Adventure"

…

Expand

This game is really fun. I think this is one of the funniest GTA on psp. The graphics isn't like the other one but its still good. I love this

This game is really fun. I think this is one of the funniest GTA on psp. The graphics isn't like the other one but its still good. I love this game. The story is great and the gameplay is just right. One of psp best action driving games. One of my favorite psp games. Different from the other gta games but it still have the same story line and gameplay with a lot of extra. Love the characters in the game. This game didn't take me a long time to figure out.

…

Expand

MarcDoyle(GamesEditor&Co-Founder-Metacritic)

Oct 23, 2009

GameSpy reviewed GTA: Chinatown Wars (PSP), but they have since removed the review from their site. I removed the review exerpt and 70 score

GameSpy reviewed GTA: Chinatown Wars (PSP), but they have since removed the review from their site. I removed the review exerpt and 70 score (originally a 3.5 stars on their site) from Metacritic after speaking with the GameSpy team regarding the situation. I am satified that GameSpy's decision to de-publish the review was an independent and principled one. Per GameSpy's Editor's Note: "We have decided to remove our review of Grand Theft Auto: Chinatown Wars after finding some factual inaccuracies in the text. We apologize for the error and any confusion this might have caused, but we're dedicated to making sure we bring you the most informed and honest reviews possible." (http://bit.ly/3Kak8v) Metacritic's original excerpt taken from the de-published review reads as follows: "So, while Chinatown Wars is a solid, entertaining title for the PSP, it simply lacks the oomph and 'oh wow!' factor that it had on DS."

…

Expand

Awful.
This is why GTA should never try another formula like Overhead
Action is bad, controls are awful, and impossible to shoot anything.Awful.
This is why GTA should never try another formula like Overhead
Action is bad, controls are awful, and impossible to shoot anything.
A waste of money, stay away

…

Expand