Publisher:

SCEA

Release Date:

Mar 14, 2005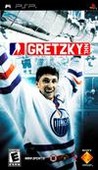 Summary:

Officially licensed by the NHL and NHLPA, Gretzky NHL for the PSP features fast-paced skating, precision passing, bone-jarring checks and players that convey the power and emotion of their sport. The game offers the Gretzky Challenge with unlockable, playable Gretzkys from his days as an

Officially licensed by the NHL and NHLPA, Gretzky NHL for the PSP features fast-paced skating, precision passing, bone-jarring checks and players that convey the power and emotion of their sport. The game offers the Gretzky Challenge with unlockable, playable Gretzkys from his days as an Edmonton Oiler, Los Angeles King or New York Ranger. Additionally, hockey fans can play a quick game in either Quick Start or Exhibition Mode, act as owners in Season Mode, or compete locally against friends or other hockey fans in head-to-head play via wireless multiplayer connectivity. By combining authentic gameplay, intuitive play controls and an enhanced presentation with the fast, fluid, hard-hitting intensity of arcade style play, Gretzky NHL for the PSP delivers the look, feel and passion of hockey and provides gamers with a true-to-life simulation. [SCEA]

…

Expand

Developer:

Page 44 Studios

Genre(s):

Sim

# of players:

2 Online

Cheats:

On GameFAQs

Rating:

E
The action is swift and challenging, but easy to control.

Frame rate sticklers will want to stay away, but if you're a hockey nut with a PlayStation Portable, you almost have no choice but to buy.

Wireless head-to-head play with a pal is a kick. It might not win over fans looking for a hardcore sim, but in the handheld rink, Gretzky NHL at least holds home ice.

Probably what affects the game the worst would be the graphics. Sony and Page 44 Studios were obviously in some sort of quick effort to put the game on the PSP, as the graphics appear to be mostly blocky and underdone.

Gamers looking for a fun, casual game with online play and unlockables may like Gretzky NHL as an excellent update to the classic hockey games of the 16-bit era.

A game that, while it can't compete with the hockey titles available for the PSP's big brother, still has a solid look and feel to it, despite the gaping hole left by the lack of commentary.

Hockey fans want to see their favorite players gliding effortlessly across the ice, not spastically jerking from end to end. The Great One was one of the smoothest players of all time, but his game is in dire need of a few visits from the zamboni to smooth out the bumps.
This game really is a disappointment. The AI is so horrible that your teammates will often skate in offsides as your coming down the ice.

This game really is a disappointment. The AI is so horrible that your teammates will often skate in offsides as your coming down the ice. Also, the passing in this game is awful. You often will be sending passes to the point when you

…

Expand

This game is so horrible. The controls are so choppy that after 5 minutes of playing it you are ready to recycle it. I strongly suggest to

This game is so horrible. The controls are so choppy that after 5 minutes of playing it you are ready to recycle it. I strongly suggest to pass on this game because it is a joke for a hockey game!

…

Expand