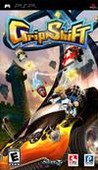 Summary:
GripShift is one of the first video games for the PSP system to combine high-flying stunt driving and unique puzzle-solving action in an all-out, pedal-to-the-metal racing experience. Players race as one of six unique characters in supped-up, customizable vehicles as they stunt their way through insane twisting levels while collecting power-ups, avoiding traps, beating the clock and challenging friends. Featuring more than 100 levels of puzzle-like challenges in fun, vibrant environments, and additional bonus games, players can race solo or with up to three other players via the PSP system's built-in wireless feature. Features unlockable racing circuits, bonus games and the ability to create custom tracks with the in-game Track Editor and share them wirelessly with other players. [Sony Online Entertainment]
| | |
| --- | --- |
| Rating: | E |
| Developer: | Sidhe Interactive |
| Genre(s): | Other Driving Games |
| Number of Players: | 1-4 Players |
| ESRB Descriptors: | Comic Mischief |
| Offline Modes: | Competitive |
| Connectivity: | Wi-Fi |
Designer/Producer/Programmer credits provided by
GameFAQs
.
If you contributed to this game and feel you should be credited, please read our
FAQ
.