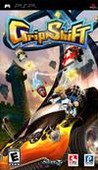 Summary:

GripShift is one of the first video games for the PSP system to combine high-flying stunt driving and unique puzzle-solving action in an all-out, pedal-to-the-metal racing experience. Players race as one of six unique characters in supped-up, customizable vehicles as they stunt their way

GripShift is one of the first video games for the PSP system to combine high-flying stunt driving and unique puzzle-solving action in an all-out, pedal-to-the-metal racing experience. Players race as one of six unique characters in supped-up, customizable vehicles as they stunt their way through insane twisting levels while collecting power-ups, avoiding traps, beating the clock and challenging friends. Featuring more than 100 levels of puzzle-like challenges in fun, vibrant environments, and additional bonus games, players can race solo or with up to three other players via the PSP system's built-in wireless feature. Features unlockable racing circuits, bonus games and the ability to create custom tracks with the in-game Track Editor and share them wirelessly with other players. [Sony Online Entertainment]

…

Expand

Developer:

Sidhe Interactive

Genre(s):

Mission-based

# of players:

1-4

Cheats:

On GameFAQs

Rating:

E
Gripshift usurps Ridge Racer as the PSP's greatest racer. In terms of fun, longevity and value for money, it even beats Mario Kart DS into submission - and that's really saying something!

An innovative platform-puzzle-racer with a built-in track editor. Sluggish car handling and constant dying are big minuses, but do not destroy an otherwise excellent game. [Feb 2006]

Collecting stars, dashing to the finish line within strict time limits and hunting for tokens are satisfying goals thanks to clever level design.

It's unfortunate that this promising combination comes mixed with a good amount of frustration.

GripShift is best left to hardcore puzzle game fans with a healthy patient streak.

The concept of a platform-heavy puzzler that features crazy cars sounds like a neat idea. GripShift just doesn't deliver on its lofty concept.

There's a ton of cool content and some great puzzles but it's all weighed down by loose driving controls.
This game rocks! Its like Hot Wheels, meets Mario Kart, TrackMania, with puzzle solving elements all rolled into one! Definately the best buy

This game rocks! Its like Hot Wheels, meets Mario Kart, TrackMania, with puzzle solving elements all rolled into one! Definately the best buy I've made on PSP so far! Its so damn addictive with all the different gameplay modes. I am only 9% through it but I've already unlocked some cool mini-games! The track editor feature looks pretty cool, and I hear you can upload & share your tracks over the net. Its great for quick play while waiting on the bus, and the load times are very quick. 10/10

…

Collapse

My favorite game on the PSP! It might be easy but there is over 100! Levels. I paid $9.99 at Gamestop - Used. My family also has a PS3 and

My favorite game on the PSP! It might be easy but there is over 100! Levels. I paid $9.99 at Gamestop - Used. My family also has a PS3 and there was a Grip Sift Demo in the PlayStation Store and we downloaded it, We loved it! Get Grip Shift today!!!

…

Expand

This game is just more fun than your average typical racing game. Makes you use your brain!

My favourite game on the PSP, I'm surprised to see such mixed reviews, yet I can understand this. Gripshift is a game that is unlike any

My favourite game on the PSP, I'm surprised to see such mixed reviews, yet I can understand this. Gripshift is a game that is unlike any other- it's really a puzzler, despite the fact it appears to be a racer, and this will catch many off guard. The game requires pinpoint precision at high velocity, as well as a willingness to put your ego aside and watch yourself fail repeatedly. However, this makes the joy of victory so much sweeter - when you do finally nail that evil track, you'll be fist-pumping the air as you watch your sublime performance in the replay, over and over again. And you'll want to show that replay to every stranger in town. The Gripshift experience reminds me a lot of Super Monkey Ball challenges, but the speed factor and added depth of Gripshift leaves that other game for dead. The difficulty level of Gripshift gradually becomes unbelievably insane, guaranteeing that most people will never complete it. People who can live with that will still find Gripshift just plain fun, and hardcore puzzlers should become obsessed with this one.

…

Expand

One of my favorite things about this game was the bonus games. There are lots of fun levels and I really like the music.

Checked out a friend's copy the other day after he recommended it to me. I think the best way to describe this game is playing Super

Checked out a friend's copy the other day after he recommended it to me. I think the best way to describe this game is playing Super Monkey Ball in cars. It's a puzzly driving action game. :) It's definitely NOT a racing game like NFS and Burnout and would be a shame to compare it to those games because it offers so much more than those boneheaded racers. You've gotta actually think out of the box and use your brain in this game. Besides, GripShift is actually one of the few games on the PSP that's completely new- you've gotta give some props to the developers for trying to come up with something new. GripShift definitely has lots of cool moments and challenging gameplay that's just perfect for the PSP.

…

Expand

Another game that could have been awesome but is just average. The tracks are very short and the puzzle elements just slows down the action

Another game that could have been awesome but is just average. The tracks are very short and the puzzle elements just slows down the action and makes it boring. I am all in favor of experimenting with new gameplay ideas but when it doest work it just doest work. They should have figured this out and make it more action oriented before release it. 20 secs long races wich slow moving platforms... fun for about 3 or 4 hours. The music is very good and so are the graphics. Playing it you get a sense of how great if could have been especially in the 1 on 1 races that involve no puzzles and very little platform jumping. The track editor is a nice touch as i can make courses that are nore puzzle oriented and more how i would have liked the game to be. Try before buying.

…

Expand