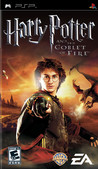 Summary:

In Harry Potter and the Goblet of Fire, Harry is mysteriously selected as the fourth competitor in the dangerous Triwizard Tournament. Each contestant in this international competition must confront a fire-breathing dragon, rescue friends from the icy depths of the Black Lake, and navigate t

he twisting mysteries of a vast, dangerous maze. Players experience all the thrills of the movie - from the Quidditch World Cup campsite to a heart-stopping duel with Lord Voldemort himself. Harry, Ron, and Hermione are all playable characters, modeled after their big-screen counterparts. In this game, an all-new spell-casting system allows players to feel the magic for the first time as the controller shakes and reacts with every flick of the wand. Players can also team up with friends in co-operative play to combine their magic and produce more powerful spells than ever before. [Electronic Arts]

…

Expand
Developer:

Electronic Arts

Genre(s):

Action Adventure

# of players:

1-3

Cheats:

On GameFAQs

Rating:

E10+
The execution of the magic spells and the top notch presentation makes this game a definite buy for Harry Potter fans and for those gamers looking for a simply fun title to pop into their lonely PSP.

Like the console versions, Goblet of Fire on the PSP is a worthwhile platforming experience for Potter fans--but the newly included minigames don't add much value.

Aside from a few minor changes--some added minigames, an excised level--this is the same game as its PS2 counterpart. [mar 2006, p.97]

While not startlingly fresh, Goblet of Fire rattles along enjoyably and demonstrates that PSP is perfectly suited to adventure gaming. [Apr 2006, p.96]
You have to be a die hard fan of harry to like this one... sluggish controls , silly objectives , anoying story line. A very rigid game thats

simply not fun. When will they stop making franchise game. A good book may make a good movie but time as proved a good movie doest make a good game :(

…

Expand

The gameplay is reppetitive and boring, it mainly consits of tapping X frantically. The graphics also have alot to be desired, the magic spel

ls don't look magical and the characters look like they have been made from about 10 pixels. The worst thing about this game is how dis-jointed it is. Instead of the great flow of you walking around howgworts, you instead use a portal leading yopu to a very long loading screen. This game is only for people who enjoy constant button tapping and knowing what is coming next. For anyone else, steer clear.

…

Expand

A kids game that is best avoided.