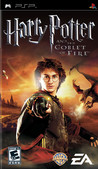 Summary:

In Harry Potter and the Goblet of Fire, Harry is mysteriously selected as the fourth competitor in the dangerous Triwizard Tournament. Each contestant in this international competition must confront a fire-breathing dragon, rescue friends from the icy depths of the Black Lake, and navigate

the twisting mysteries of a vast, dangerous maze. Players experience all the thrills of the movie - from the Quidditch World Cup campsite to a heart-stopping duel with Lord Voldemort himself. Harry, Ron, and Hermione are all playable characters, modeled after their big-screen counterparts. In this game, an all-new spell-casting system allows players to feel the magic for the first time as the controller shakes and reacts with every flick of the wand. Players can also team up with friends in co-operative play to combine their magic and produce more powerful spells than ever before. [Electronic Arts]

…

Expand

Developer:

Electronic Arts

Genre(s):

Action Adventure

# of players:

1-3

Cheats:

On GameFAQs

Rating:

E10+
The execution of the magic spells and the top notch presentation makes this game a definite buy for Harry Potter fans and for those gamers looking for a simply fun title to pop into their lonely PSP.

It's a shame that the PSP version doesn't include the multiplayer of the console versions, but it's a pretty solid port nonetheless.

It's a fun, good looking game for the most part. And the variety of levels keeps things fresh. Still, the game just doesn't control all that well and there's a few irksome camera and AI problems.

I have to be honest, in order of what I would prefer to do with this story, I would choose to read the book again, then watch the movie, follow far behind by playing this game.

An entertaining adventure, but it is not a game for non-Potter fans. The visuals, music and voice acting are beautifully done, but the same can't be said for the storyline, and controls.

The constant action means the Harry Potter series has always lent itself well to the video-game format, and thankfully (albeit surprisingly) EA has mostly improved upon their winning formula, while upping the ante visually and adding welcome multiplayer features, easily making the Goblet of Fire their best adaptation yet.