Publisher:

Atlus

Release Date:

May 24, 2010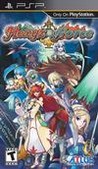 Summary:
Long ago, Norvia, the Goddess of Creation, descended from the heavens. Using the Holy Vessel, a divine chalice charged with all Force (the spiritual energy in the universe), she created life and the Divinities, shepherds of existence. For a while, all was good. After a time, Delgaia, the God of Destruction, brought about a great calamity known as the Gods' Remorse. He intended to return all Force to the Holy Vessel, returning Berge to the void. The Divinities sacrificed themselves to defeat Delgaia, delivering Berge from doom and sealing the God of Destruction away deep within the earth. As Berge lay in ruin, a result of its bitter war, Norvia made a covenant. She would restore Berge to its former beauty on one condition. An Hour of Judgment would eventually come to pass, and in it, the world would have to decide its ultimate path: creation or destruction. [Atlus USA]
| | |
| --- | --- |
| Rating: | T |
| Official Site: | http://www.atlus.com/hexyzforce/ |
| Developer: | Sting |
| Genre(s): | Role-Playing, Console-style RPG, Console-style RPG, Japanese-Style |
| ESRB Descriptors: | Mild Fantasy Violence Mild Language Suggestive Themes |
Designer/Producer/Programmer credits provided by
GameFAQs
.
If you contributed to this game and feel you should be credited, please read our
FAQ
.
| | |
| --- | --- |
| 38 | |
| 37 | #37 Most Discussed PSP Game of 2010 |
| 26 | #26 Most Shared PSP Game of 2010 |