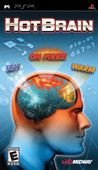 Summary:
Fire up your mind with Hot Brain, a game that engages the mind through a series of puzzles and challenges designed to raise the activity and temperature of your brain. Hot Brain presents challenging and fun mental activities that help ignite your mind in areas like logic, memory, math, language and concentration. The game allows you to test your skills in several single player modes or you can play with up to three people via ad-hoc connection. Whether you're an expert or a beginner, a robust tutorial mode makes the game accessible and enjoyable to people of all ages. Hot Brain features five challenging categories with hundreds of timed challenges in each that test your brain powers in logic, memory, math, language and concentration. The controls are simple and intuitive, and are geared toward fast-reaction gameplay. Each potential answer to a given Challenge is mapped to a controller button, allowing even a novice PSP user to start playing immediately. [Midway]
Designer/Producer/Programmer credits provided by
GameFAQs
.
If you contributed to this game and feel you should be credited, please read our
FAQ
.