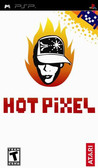 Summary:
(Also known as "HOT PXL") Hot Pixel follows Djon, a skateboarder, through a loosely structured central storyline which is packed with challenges--in the form of some 200 minigames, which require players to draw on their reflexes and 2D gaming prowess. The various obstacles Djon must successfully negotiate include performing tricks on a BMX bike, stagediving at a punk-rock show, playing an in-game video game, and just trying to cross a busy digital street. HOT PXL's minigame library can be updated with downloads via the PSP's wireless Internet functionality.
| | |
| --- | --- |
| Rating: | T |
| Official Site: | http://www.hotpxl.com/ |
| Developer: | zSlide |
| Genre(s): | Puzzle |
| Number of Players: | 1-2 Players |
| ESRB Descriptors: | Alcohol Reference, Blood and Gore, Cartoon Violence, Crude Humor, Mild Language, Suggestive Themes |
| Offline Modes: | Competitive |
Designer/Producer/Programmer credits provided by
GameFAQs
.
If you contributed to this game and feel you should be credited, please read our
FAQ
.