Publisher:

SCEA

Release Date:

Jun 3, 2008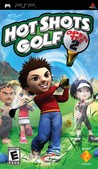 Summary:
(Also known as "Everybody's Golf 2") Step out of the clubhouse and onto the open tee with Hot Shots Golf Open Tee 2. The classic, entertaining golf franchise returns to the PSP with new quirky characters, beautiful courses and a huge variety of customizable options that enable you to take your golf game wherever you go. Tee off in Hot Shots tournaments up to 16 players. 12 exotic courses - Play on tropical islands, the arid desert, beside snow-capped mountains and along the coast. In-depth character customization with more than 320 options. Experience the fun of Hot Shots Golf with the widely acclaimed classic game play. Tee off locally with up to 8 players and settle the score via Ad Hoc either head-to-head or in tournament play. Upgrade your clubs and golf balls to execute more accurate shots, longer drives, tighter approach shots and perfect putts. [Sony]
Designer/Producer/Programmer credits provided by
GameFAQs
.
If you contributed to this game and feel you should be credited, please read our
FAQ
.