Publisher:

SCEA

Release Date:

Jun 3, 2008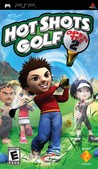 Summary:

(Also known as "Everybody's Golf 2") Step out of the clubhouse and onto the open tee with Hot Shots Golf Open Tee 2. The classic, entertaining golf franchise returns to the PSP with new quirky characters, beautiful courses and a huge variety of customizable options that enable you to take

your golf game wherever you go. Tee off in Hot Shots tournaments up to 16 players. 12 exotic courses - Play on tropical islands, the arid desert, beside snow-capped mountains and along the coast. In-depth character customization with more than 320 options. Experience the fun of Hot Shots Golf with the widely acclaimed classic game play. Tee off locally with up to 8 players and settle the score via Ad Hoc either head-to-head or in tournament play. Upgrade your clubs and golf balls to execute more accurate shots, longer drives, tighter approach shots and perfect putts. [Sony]

…

Expand

Developer:

Clap Hanz

Genre(s):

Arcade

# of players:

1-8

Cheats:

On GameFAQs

Rating:

E
Golf lends itself well to online play, and OT2 doesn't disappoint, especially as a portable title.

If you enjoyed the original and are wondering if this is a worthy successor my answer would be absolutely there is plenty of new content, and the online play is quite the treat.

Everybody's Golf 2 is just one of those games that you can't put down, its addictive fun and well worth anyone's cash.

Open Tee was and is a fantastic game, and it's hard to complain about being able to tee off online with that very same feel.

It's a quick loader, too, with minimum turnaround between holes.

When looking at Hot Shots Golf: Open Tee 2, and taking the sum of all its parts, this series still remains as one of the easiest to pick up and play golf games that any one can take part in on the PSP.

I'd actually prefer a minigolf version of this series on the handheld systems. Maybe that would get me worked up about a relaxing round of Hot Shots again.
This review contains spoilers, click expand to view. Fun to play and tough to master indeed! This is the kind of game that keeps you hooked for 8 hours long sessions, and you still want more. Doesn't take itself very seriously, but still offers solid game-play for amateurs to pros alike, being the opposite of the wanna-be-king Tiger Woods series, which seem rather boring compared with the fun of Hot Shots Golf series.
More so, it sort of "contains" the first game, since all it's characters can be unlocked here.
The only downside i found is that leveling up to the top rank is done much too soon, such as when you're there you still might have unlocked characters (without taking into account those from the first game, which have to be found hidden around the golf courses). But since you'd keep playing the game a lot even after getting everything it has to offer, this is not that much of an issue.

…

Expand