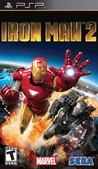 Summary:
Packed with favorites from the movie and comic book worlds, Iron Man 2: The Video Game offers gamers a chance to choose between Iron Man and War Machine, as they battle through hugely destructible indoor and outdoor environments. Tony and Rhodey both come equipped with their own distinct assortments of fully customizable, earth-shattering weapons, as well as vicious melee combat moves, all of which will come in handy against the likes of Crimson Dynamo and other classic Marvel foes. [Sega]

Designer/Producer/Programmer credits provided by
GameFAQs
.
If you contributed to this game and feel you should be credited, please read our
FAQ
.