Publisher:

THQ

Release Date:

Jun 28, 2006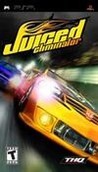 Summary:
Juiced: Eliminator captures the look and feel of Juiced while building on its success with the addition of new cars, tracks, characters and game modes. The built-in wireless connectivity on the PSP lends itself to expanding the multi-player options, including multiplayer crew races, pink slip racing and the all new 'Eliminator' mode where the slowest driver per lap is removed from the competition, and the winner is the last one left in the race. Key features include: All new 'ad-hoc' multiplayer games, 8 new characters and crews, 2 new locations each with 8 unique tracks, 9 new cars with over 100 new body-kit components, new single player game modes, re-styled menus, improved career mode progression, and all-new full-screen post-race movies. [THQ]
| | |
| --- | --- |
| Rating: | T |
| Developer: | Juice Games |
| Genre(s): | Driving |
| Number of Players: | 1-6 Players |
| ESRB Descriptors: | Language, Mild Suggestive Themes |
| Offline Modes: | Competitive |
| Connectivity: | Wi-Fi |
Designer/Producer/Programmer credits provided by
GameFAQs
.
If you contributed to this game and feel you should be credited, please read our
FAQ
.
| | |
| --- | --- |
| | |
| | #14 Most Shared PSP Game of 2006 |