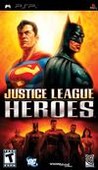 Summary:

Justice League Heroes is an action adventure game with role-playing customization featuring Superman, Batman, Green Lantern, The Flash, Wonder Woman, Martian Manhunter, Zatanna and other unlockable Justice League super heroes. Each hero possesses an array of character-specific, upgradeable

superpowers resulting in unique controls and fighting-styles. Engaging in one-to-two player cooperative combat, gamers are be able to customize and master these superpowers as they travel through interactive and destructible environments spanning the farthest corners of the universe. [Eidos Interactive]

…

Expand

Developer:

Snowblind Studios

Genre(s):

Action RPG

# of players:

1 Player

Cheats:

On GameFAQs

Rating:

T
League Heroes is dungeon crawler meets superhero brawler.

If you like comic books and action RPGs, I can easily recommend that you purchase this game.

It's engaging, it's dealt with the DC license in an acceptable way and it manages to make you want to kick a little butt while wearing tights.

A well-put-together game that lacks the depth needed for lasting appeal. [Jan 2007, p.62]

Gorgeous cutscenes give Justice League the epic feel that an all-star block party deserves.

Limited in terms of gameplay, but it's got an undeniable appeal and is often great fun - who wouldn't enjoy kicking ass as Superman and Batman working in unison? [Jan 2007, p.87]

The absence of a two-player co-op mode mars what is otherwise an enjoyable – if rather simplistic and short-lived – journey.