Publisher:

ATLUS

Release Date:

Nov 10, 2009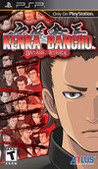 Summary:
Kenka Bancho: Badass Rumble puts players in the role of a high school student on a class trip to a historic Japanese city, and includes no shortage of fist-to-face and knee-to-gut action all in the name of pride and bragging rights. You've got seven days to make a name for yourself. How you choose to spend your time and how you manage to rise to the top is up to you! [Atlus USA]
| | |
| --- | --- |
| Rating: | T |
| Official Site: | http://www.atlus.com/bancho/ |
| Developer: | Bullets |
| Genre(s): | Action |
| ESRB Descriptors: | Animated Blood, Language, Mild Suggestive Themes, Violence |
Designer/Producer/Programmer credits provided by
GameFAQs
.
If you contributed to this game and feel you should be credited, please read our
FAQ
.