Publisher:

SCEA

Release Date:

Nov 15, 2005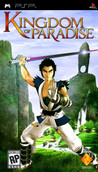 Summary:

(Also known as "Key of Heaven") Kingdom of Paradise is an action-RPG title where players take the role of a young warrior outcast named Shinbu. When one of the five martial clans attempts to disrupt a peaceful balance of power within the land of Ohka, Shinbu seeks to defend his clan and

(Also known as "Key of Heaven") Kingdom of Paradise is an action-RPG title where players take the role of a young warrior outcast named Shinbu. When one of the five martial clans attempts to disrupt a peaceful balance of power within the land of Ohka, Shinbu seeks to defend his clan and restore equal power to the five clans that once ruled the world. With more than 20 hours of gameplay, players will venture through vast, living worlds and battle mythical enemies in a quest to restore peace to Ohka. More than 150 sword attack styles are available and players can create unique fighting combos by customizing sword attacks and moves gained throughout the game. In Ad Hoc mode, custom-created sword skills can be shared with friends and players can battle in one-on-one matches. Special skills and defensive items, along with an exclusive sword, are available to download via Infrastructure mode. [SCEA]

…

Expand

Developer:

Climax Entertainment

Genre(s):

Action RPG

# of players:

1-2

Cheats:

On GameFAQs

Rating:

T
A fully fledged RPG for the PSP, nice graphics and customisable combat system give this title depth.

Probably the best fully original title to hit Sony' Portable since "Lumines." It's a solid action RPG set against an old Eastern backdrop that bears a resemblance in style to Bioware's "Jade Empire."

Kingdom of Paradise has somewhat of a steep learning curve and its flashy combat system has a few problems, but the quality of the game's presentation and the generally entertaining battles almost completely overshadow these setbacks.

While the story is a bit cliché, the setting is much better than your typical fantasy or sci-fi fare. It's unfortunate that the combat gets bland quickly and camera issues abound.

An annoyingly expansive world, and reams of stilted dialogue, have all been squeezed onto a handheld system -- with nary a load time to be found! -- and that is a feat nothing short of miraculous.

The story never really gets interesting, but the action-heavy combat system is fresh and gets more fun the longer you play. [Jan 2006, p.128]

In between the unsatisfying battles and the go-nowhere story, there's a lot of searching for the right area or person that will trigger the next cutscene, and a lot of wandering back and forth for the sake of extending the game's playtime.
Great game, tons of moves that you can put together to form your own combos and sweet spells for you to level up!

Awesome game, although brings some basic graphics, but the handheld screen hides that all, super animation, absolutely fantastic Kung-Fu

Awesome game, although brings some basic graphics, but the handheld screen hides that all, super animation, absolutely fantastic Kung-Fu oriented gameplay and great oriental story, a must have for any handheld owner. I give it a perfect 10 !

…

Expand

sinneroftheworld123foolycooly

May 25, 2006

I was hooked to this game as soon as i started it. i gota admit the begining wasnt that great but wen i was able to do more [in a short

I was hooked to this game as soon as i started it. i gota admit the begining wasnt that great but wen i was able to do more [in a short period of time] it was a blast!

…

Expand

Very cool game. Only problem is that it takes a bit of patience before you actually start getting into some action. But if yu can handle the

Very cool game. Only problem is that it takes a bit of patience before you actually start getting into some action. But if yu can handle the slow start and persist you will find this is probably one of the best titles on the PSP at the moment. Well done whoever made it. Im looking forward to Tenchu.. it is looking to be good.

…

Expand

Under rated. It was a very good game. The plot seems to jump around in places but it was still very nice and rather original. The fighting

Under rated. It was a very good game. The plot seems to jump around in places but it was still very nice and rather original. The fighting system is pretty orignal and allows tons of expansion and variety. If you are a fan of action/rpg games a must have.

…

Expand

PRO: good graphics, smooth motion, cool combat system CON: long load times when moving to new areas, no "JUMP", kinda difficult at the beginning.

This game should not be on the PSP. it wants to be a full fledged console game vut knew it would die if it was relesed on any other console.

This game should not be on the PSP. it wants to be a full fledged console game vut knew it would die if it was relesed on any other console. the cut scenes go on forever & when they end you know less then you did in the begining. the plot twists are so pathetc i saw ever single one coming. the combat is dull & repetitive but & sadly the highlight of this game however it takes you a good half hour to get any uninterruptid time with it. also your objectivezs are vague, & ever single character is visualy unapealing. this is quit simply a bad game but if you're game starved, & very patient, you maybe able to sques a couple of drops of fun from this lemon of a game.

…

Expand