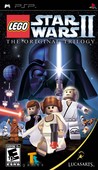 Summary:

LEGO Star Wars II takes the fun and customization ability of the LEGO play pattern and combines it with the epic story, characters and action from the revolutionary Star Wars: Episodes IV, V and VI. With a unique tongue-in-cheek take on the Original Trilogy, LEGO Star Wars II lets you build

and battle your way through your favorite film moments. From Darth Vader's pursuit of Princess Leia aboard her Blockade Runner to Luke's final confrontation with Emperor Palpatine. For the first time ever, characters can get in and out of vehicles, as well as ride creatures. Because it's LEGO style, you can also mix and match the body parts of more than 50 playable characters to create one of millions of possible LEGO Star Wars heroes. And on PS2, Xbox and Windows platforms, a game save from the first LEGO Star Wars can unlock another 50-plus additional characters for Free Play mode -- that's more than 100 total characters. Other exciting additions include free-roaming vehicle levels, the ability to switch ships at will in Free Play mode, cool new character-specific attacks and maneuvers, playable mini-kit vehicles, an adaptive difficulty option and more. [LucasArts]

…

Expand

Developer:

Traveller's Tales

Genre(s):

Action Adventure

# of players:

1-2

Cheats:

On GameFAQs

Rating:

E10+
Even better than the first game, this handheld masterpiece is an essential purchase.

Beautifully knitting together the Star Wars and Lego worlds in presentation and ambience, this is a game that showcases the PSP's extraordinary capabilities.

A supremely entertaining romp through the classic Star Wars universe, LSWII deserves to be played by everyone. [Nov 2006, p.102]

But most importantly, it's about the good episodes now. For that reason alone, Lego Star Wars II is one of the most enjoyable games of this fall.

With solidly rebuilt controls only a little marred by a still-fussy camera, LEGO Star Wars II is even better than last years prequel trilogy-based offering. And, as the first LEGO Star Wars was an amazingly entertaining homage to Lucas's genius, this sequel stands atop the original's shoulders as the pinnacle of LEGO Star Wars fun.

The game's simplicity is what really makes the game work: it's a game where you don't have to futz around with complicated controls, and camera control isn't an issue. [Nov 2006, p.78]

What's pretty refreshing is that Lego Star Wars II makes a damn nice jump from the hefty console down to the wee portable. [Nov. 2006, p. 122]
Fun, simple and charming, the Lego idea has manifested to Indiana Jones , Harry potter and Batman. Now I wonder what fresh begining will it

take in the next installment.

…

Expand

Super lego fun times three thousand is great, but it gets repetitive. But that takes a long time. I think its great though.