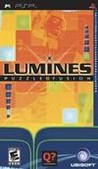 Summary:
Bust blocks, groove through puzzles, and jam wirelessly with friends. Stack 'em right and you'll unlock lush looks and buttery beats. Want to be lumines? Just let the music guide you. Advance through 24 action-packed levels, each with its own musical theme and sound effects. 4 gameplay modes including single-player and multiplayer ensure varied and lengthy gameplay. Time attacks, duels, and puzzle challenges await! Unlock new customizable skins and avatars as you progress. Flaunt your progress in multiplayer mode; push your opponent right off the screen. Challenge yourself, or go head to head with an opponent via wireless multiplayer functionality. Listen as the jam intensifies depending on your skills. Stack 'em and crack 'em to unlock the best beats and score high points. Combo and link for best results. [Ubisoft]
| | |
| --- | --- |
| Rating: | E10+ |
| Developer: | Q Entertainment |
| Genre(s): | Miscellaneous, Puzzle, Puzzle, General, Puzzle, Matching, General |
| Number of Players: | 1-2 Players |
| ESRB Descriptors: | Suggestive Themes |
| Offline Modes: | Competitive |
| Connectivity: | Wi-Fi |
Designer/Producer/Programmer credits provided by
GameFAQs
.
If you contributed to this game and feel you should be credited, please read our
FAQ
.
| | |
| --- | --- |
| 1 | |
| 2 | #2 Most Discussed PSP Game of 2005 |
| 17 | #17 Most Shared PSP Game of 2005 |