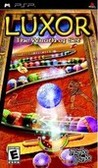 Summary:

LUXOR: Wrath of Set is any easily accessible title that features an addictive style of gameplay combined with slick graphics and detailed levels that continue to challenge you as you go. Luxor is an action/puzzler that takes the player on a thrilling adventure across Ancient Egypt. Isis has

LUXOR: Wrath of Set is any easily accessible title that features an addictive style of gameplay combined with slick graphics and detailed levels that continue to challenge you as you go. Luxor is an action/puzzler that takes the player on a thrilling adventure across Ancient Egypt. Isis has enlisted you to battle Set and his evil minions. Use your scarab to shoot and destroy the approaching spheres before they reach the pyramids. Use Isis' magic by catching talismans, gems, and Ankh coins. Featuring a rousing soundtrack and full of exhilarating action, the only question is: Can you thwart Set's diabolical plans? [MumboJumbo]

…

Expand

Developer:

MumboJumbo

Genre(s):

Puzzle

# of players:

1 Player

Cheats:

On GameFAQs

Rating:

E
The Wrath of Set not only stands out amongst its higher-profile peers but actually surpasses some of them in terms of its simplistic addictiveness.

Luxor provides the only Zuma like experience on the handhelds right now, so if you want some ball blasting puzzle game fun, this is your answer.

You can't go wrong with Luxor if this type of game is your cup of tea but there are better alternatives available on the PSP.

Luxor remains a quality take, if mostly derivative, on its little piece of the puzzle genre. While the lack of options make the game's $29.99 tag a little much, Luxor provides the kind of pick-up-and-play gaming that's not as common on PSP, especially compared to what's commonly available on DS.

After a couple of hours, the gameplay wears thin and desire to play more withers up and dies.

Luxor: The Wrath of Set's uninteresting gameplay and lackluster presentation don't do anything to set it apart from other, better puzzle games available for the PSP.

If you have a burning urge to spend $20 and have already gone through the other puzzlers on the PSP, Luxor the Wrath of Set isn't the worst puzzle game out there. It's just really uninspired.