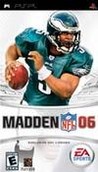 Summary:

For 16 years, Madden NFL football has been the definitive gridiron video game experience. Here's the next one for your portable buddy.
Developer:

EA Tiburon

Genre(s):

Sports

,

Traditional

,

Team

,

Football

,

Sim

,

Sim

# of players:

4 Online

Cheats:

On GameFAQs

Rating:

E
The game is fully featured for tremendous long term value, and the online components put it over the top in terms of true dollar value for your gaming experience.

Perhaps the most annoying quirk about the visual presentation is the loading which is a bit too frequent.

Put simply, Madden 2006 for PSP is the first real - as in fully featured and legitimate - portable football game. [Dec 2005, p.114]

With features missing such as instant replay and challenging plays, and bugs that will crash games and others that ruin player progression, the game could have used some more time in the shop... Even with all of its problems, Madden 06 is easily the best football game to ever grace a handheld.

And all that loading is double-whammy. Not only does it increase the length of each game, it puts a heavy drain on the battery. You probably won't make it all the way over the hills and through the woods to grandmother's house playing Madden PSP on one charge, much less if you turn on the Wi-Fi adapter.

It should be noted that the team got a lot of things right, particularly in the graphics and gameplay departments. While the first PSP game in the series has a few issues, it's still the only game in town.

What you have here is a competent, playable, fun football game pretty much ruined by game-killing bugs, freezes, flaws, and debacles.
This game is the best football game that i have ever played, espescially for a handheld.. Great graphics and real live action. But i gave it

This game is the best football game that i have ever played, espescially for a handheld.. Great graphics and real live action. But i gave it a 9 only for the lag and the long loads... but i can see why it takes so long (the graphics are frikin awesome) so overall i think its a great game and a must have if you own a psp.

…

Expand

Good, but can I really not audible to flip my play at the line of scrimmage? Or audible to the original play after changing? Those are pretty

Good, but can I really not audible to flip my play at the line of scrimmage? Or audible to the original play after changing? Those are pretty huge omissions.

…

Expand

It should be noted that there is a bug in the second game of the season/franchise that totally shuts the psp down, requiring you to save

It should be noted that there is a bug in the second game of the season/franchise that totally shuts the psp down, requiring you to save before the end of the 2nd season game. I couldnt get through the playoffs either without game shutting down. Other than that it's a typical madden game, 3 or 4 plays is all you really need. Read the defense and then audible.

…

Expand

Just as good as all the other maddens, but the loading times do get irritable. Still a very good game.

A great portable football game with frustrating loading and game freezes. Save your game after each game if not each quarter, you never know

A great portable football game with frustrating loading and game freezes. Save your game after each game if not each quarter, you never know when the balsted game is going to freeze erasing your progress. There is nothing for frustrating than having to repaly aouple of games in your season because they are lost. If it wasn't a true Madden Game thescoring would be lower.

…

Expand
| | |
| --- | --- |
| | |
| | #39 Most Discussed PSP Game of 2005 |
| | #41 Most Shared PSP Game of 2005 |