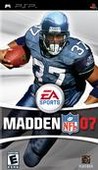 Summary:

With the exclusive video game license of the NFL and its players, and currently in its 17th installment, Madden NFL 07 puts you in control the running game like never before. For the first time ever, step up as the lead blocker to create a hole, and then take control of the tailback and

smash through, overpower, or slash away from would-be tacklers as you fight for every yard. Innovative rushing controls give you a game-breaking ground attack featuring all-new jukes, cutbacks, and the distinct running styles of your favorite backs. [Electronic Arts]

…

Expand
Developer:

EA Tiburon

Genre(s):

Sim

# of players:

1-2

Cheats:

On GameFAQs

Rating:

E
From the innovative highlight stick to the "run-to-daylight" feature, the PSP version of Madden has it all. Add in the ability to take your PS2 franchise on the go and you have the best handheld football game not only in years, but perhaps of all-time.

Last year's portable Madden chugged and sputtered like a 400 pound offensive lineman asked to run consecutive forty-yard dashes. This year, it's as smooth as Peyton Manning's throwing mechanics. [Nov. 2006, p.79]

There aren't nearly as many features as what's in the console versions, but, hey, at least what's here is stable.

A very respectable entry and a much better game than last year's version, even with a few unresolved issues.

It's a great game that will keep you busy for many hours across several months, offering tons of options and replay value; yet there are plenty of quirks and load time frustrations, and some things could use more optimization.

While I'd be lying if I said I wasn't at least a little disappointed with this year's version, Madden 07 for the PSP still does a respectable job of replicating the game of football.
absolutely marvelous game. I just got it yesterday and I've already played 8 and 1/2 hours on it. The graphics are truly amazing, and

the End to End game is truly a nice touch.

…

Expand

This is a 180 degree turn around from last year's Madden. Graphics, gameplay, audio and the best part is moving you season from the PS2

and back. I'm a big football fan so I'm happy with this purchase.

…

Expand

This is one of the best PSP games I have played. I highly recommend this for any football fan, madden fan, or psp gamer.

Great game. Still long loading time but to be expected with a PSP. Great gameplay and awsome visuals.

a total revamp of last years game(if that is a game) tighter graphics better controls and better songs too!