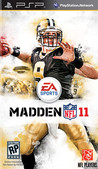 Summary:
Madden NFL 11 promises to re energize the game of football with a fun and exhilarating experience to ignite the passion of every NFL fan. Whether you're rekindling an old rivalry, putting your spin on the best moments of 2009, or building the ultimate dynasty in Franchise mode, Madden NFL 11 wants every day to feel like Sunday. Experience the passion for football shared by Gus Johnson and Cris Collinsworth as they call the action on the field. Fight for fumbles, design your own plays, and feel what it's like to be an NFL superstar with Madden NFL 11. [Electronic Arts]
Designer/Producer/Programmer credits provided by
GameFAQs
.
If you contributed to this game and feel you should be credited, please read our
FAQ
.