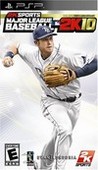 Summary:

Learn the Farm - Play full games with Triple-A teams to get a closer look at tomorrow's stars. Home Run Derby - Play a single round or test your skills in a ladder-style tournament. To be crowded the champ, you'll have to outslug baseball's most feared power hitters. Many ways to play -

Learn the Farm - Play full games with Triple-A teams to get a closer look at tomorrow's stars. Home Run Derby - Play a single round or test your skills in a ladder-style tournament. To be crowded the champ, you'll have to outslug baseball's most feared power hitters. Many ways to play - Whether you feel like playing a single season, managing multiple teams at once, or building a dynasty in Franchise mode, we've got you covered. Put your manager cap on - You're not playing the game, you're controlling it. Make the lineups, pitching changes, substitutions and strategy decisions as you try to outwit your opponent. [2K Sports]

…

Collapse
Developer:

Visual Concepts

Genre(s):

Sports

,

Traditional

,

Team

,

Baseball

,

Sim

,

Sim

Cheats:

On GameFAQs

Rating:

E
Playstation: The Official Magazine (US)

As a game of hits and misses, you'll find plenty to moan about in the PSP 2K10 and just enough to keep you playing. [May 2010, p.79]

At the end of the day MLB 2K10 will work for you if you're absolutely desperate for a baseball game that at least appears to be authentic when you first turn on the system.

Don't let your love for 2K Sports blind you. What they did on consoles is light years ahead of this. Do you want a nice and fun baseball game for your PSP? Do yourself a big favor and go with The Show.
This is the reason why I never play sports video games, I don't know if its a bad luck, bad taste or simply If I don't tolerate this

This is the reason why I never play sports video games, I don't know if its a bad luck, bad taste or simply If I don't tolerate this pathetical repetition. Major League Baseball 2K10 isn't bad, it's just that the slippery, uninspired gameplay don't push you to keep playing the game. For the PSP is not an option to take overall,while I never played the console versions ( that, I think is better than this cheap version ) please play the other serious versions, not this robbery. Oh , and , better play the PS3 original franchise exclusive MLB the show .

…

Expand