Publisher:

2K Sports

Release Date:

Feb 26, 2007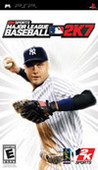 User Score
tbd
No user score yet- Be the first to review!
Summary:

It's a whole new ballgame! Major League Baseball 2K7 redefines the pure baseball video game experience with true, Next-Gen details, all-new throwing mechanics and a revolutionary presentation system. Signature Style - Batting stances, waggles, home run celebrations, step-ins and step-outs br

ing each player to life. True Fielding – Fielder positioning, relay and cutoff A.I. has been redesigned to allow for better, more authentic Major League defensive play. Defensive alignments are now based on who is at the plate. Dynamic Throwing System - Responsive throwing mechanics coupled with unique animations for infield, outfield and situational throws brings your command of the ball to a new level. Inside Edge - Updated for the 2007 season, Inside Edge data is now tied into USER control at the plate. Playing into your pitcher's or hitter's strengths will now reward you with a boost in hitting power. [2K Sports]

…

Expand
Developer:

Visual Concepts

Genre(s):

Baseball

# of players:

2 Online

Cheats:

On GameFAQs

Rating:

E
It's only an incremental improvement over last year's game, but MLB 2K7 is packed with content and solid gameplay.

What I really like about the game is that it allows you greater control over a variety of often-neglected elements such as fielding, base running, and the ability to move the catcher in the optimum position.

With a majority of the bugs having not been fixed or even slightly addressed, MLB 2K7 for the PSP is a far cry from a baseball game that you'll want to take with you on the go.

The game feels too labored and doesn't have enough thrills to lock us in. When it comes to handheld baseball, 2K7 isn't even a wild card compared to the champ, "MLB 07: The Show."