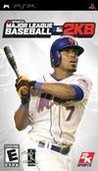 Summary:

Although he is best known for his speed and base-stealing ability, the Mets' Jose Reyes is also one of the most well-rounded players in the game and is the first player in baseball history to have more than 63 steals, 120 runs, 192 hits, and 19 homers in a single season. Reyes led the Major

Although he is best known for his speed and base-stealing ability, the Mets' Jose Reyes is also one of the most well-rounded players in the game and is the first player in baseball history to have more than 63 steals, 120 runs, 192 hits, and 19 homers in a single season. Reyes led the Major League in 2006 with 17 triples and 64 stolen bases and set a new Mets club record with 104 hits at Shea Stadium. Also an avid video gamer and long time fan of 2K Sports' products, All-Star Shortstop Jose Reyes is a natural fit as the official spokesperson for this year's edition of the critically acclaimed Major League Baseball 2K series. [2K Sports]

…

Collapse
Developer:

Kush Games

Genre(s):

Sports

,

Traditional

,

Team

,

Baseball

,

Sim

,

Sim

# of players:

2 Online

Cheats:

On GameFAQs

Rating:

E
If faced with the option of buying this or "MLB 08: The Show," do yourself a favor and choose The Show. Not to say that 2K8 doesn't have redeeming qualities, but there's no question that the best baseball experience on Sony's portable system resides in the first-party edition.

As a fan of the franchise, I have no doubt that 2K Sports will get this series right in the portable format but this year's game isn't it. Hopefully next year's game will hit it out of the park.

While the PSP version of MLB 2K8 is not a terrible game by any means, graphics and the inability to provide smooth animations in player movement and camera work just seems somewhat disappointing.

MLB 2K8 is more of an obligatory title than a passionately crafted offering, and it feels like it most of the time.

This game screams rushed port and the sad part is it screams rushed port of the non-existent Playstation 1 version.
For some reason this game has not got the accolades that it deserves, probably because baseball is not a global sport, but believe me ,

For some reason this game has not got the accolades that it deserves, probably because baseball is not a global sport, but believe me , despite some minor glitches, the game gives a very real baseball experience.
At first, the game play is a bit hard to judge, but once u get the hang of it , it is really enjoyable.
Even the commentary is very real , it is very situational and they dont repeat the same thing again and again, and they even discuss things during the course of the game.

…

Expand