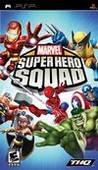 User Score
tbd
No user score yet- Be the first to review!
Summary:

Set in the ever popular Marvel Universe, the Super Hero Squad is on a dire mission against Dr. Doom's Lethal Legion of villains to recover the hidden Infinity Fractals; fragments of the all-powerful Infinity Sword. Each Infinity Fractal holds incredible power and can have significant effects

on its possessor, giving each character special abilities that could alter the game's rules and playing field. With more than 20 Marvel characters to mix and match, players can choose to take on the role of their favorite Super Heroes and Super Villains, such as Captain America, Dr. Doom, Falcon, Hulk, Iron Man, Juggernaut, Ms. Marvel, Silver Surfer, Thing, Thor and Wolverine, to name a few. Using character-specific super powers and customized combo attacks, players will blast, punch, and bash in fast-moving combat with their nemesis. Players can either jump into a battle arena against up to three opponents in Battle Mode, or choose to relive six campaigns as depicted from the animated series in Adventure Mode. Marvel Super Hero Squad is an immersive, single and multiplayer game filled with dramatic, interactive environments where players are given extraordinary powers to fight for good or evil, depending on which Super Hero Squad character they chose to play as. [THQ]

…

Expand
Developer:

THQ

Genre(s):

Adventure Games

Cheats:

On GameFAQs

Rating:

E10+
It's not perfect, but we like it. The spirit of Marvel comics has come to life and whether you bully your way through like Hulk or fly around like Silver Surfer, there will always be a way for you to kick some ass.

It's not incredibly long or unique, but Marvel Super Hero Squad will give you your money's worth if you're OK with an average brawler with no new ideas. The individual battles give it some longevity, and the ability to watch the cutscenes individually is a nice touch.

Marvel Super Hero Squad has a number of fun moments that work on the PSP but missing co-op and a few gameplay issues make this game a miss. That said, however, young gamers would still have a blast taking their favorite Marvel character through this decent action game. Do consider this a rental for fans of the show.

The drearily straightforward structure, broken camera and mindless action make it one that even the most dedicated Marvel fan won't find much value in.