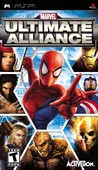 Summary:

Marvel: Ultimate Alliance is an action/RPG that features the largest roster of comic book characters ever seen in a video game. Players assume the roles of more than 20 Marvel Super Heroes including Spider-Man, Wolverine, Blade and Captain America, and through their actions determine the

fate of both planet Earth and the Marvel universe – revealed in one of multiple epilogues. Marvel: Ultimate Alliance offers total team customization, where players create their own team name, icon and vehicle, as well as establish their team reputation as they play throughout the story. Gamers also have the option to level up each character individually to their liking, or all team members at the same time to keep their heroes balanced. With the game's new combat system, players battle against the world's most notorious Marvel Super Villains in the air, underwater, and on the ground, using grappling, blocking and dodging moves, by charging up their Super Hero powers before unleashing them, and using environmental objects as one and two-handed weapons. Marvel: Ultimate Alliance features a storyline where the missions players accept, the objectives they complete, and their interactions with other characters throughout the game directly impact how the story plays out. The game also features a robust multiplayer component where fans can band together with friends as their favorite Marvel Super Heroes, and fight evil in both on and offline cooperative story modes. There's also a Competitive Mode where the game tracks various in-game stats so players can see how well they stack up against one another – affecting the amount of experience points earned and how equipment is distributed. [Activision]

…

Expand
Developer:

Vicarious Visions

Genre(s):

Action RPG

# of players:

4 Online

Cheats:

On GameFAQs

Rating:

T
It doesn't take the psychic powers of Prof. X or Dr. Strange to predict that a pulse-pounding, butt-kicking, mask-wearing adventure is in your immediate future. Marvel: Ultimate Alliance is a no-brainer purchase for any self-respecting Marvel fan.

Every piece of the game is well-executed, and given the PSP's exclusive gameplay modes, it is easily the best version of the game for anyone who's not going to fault the PSP's inability to match the Xbox 360's graphical power.

The game includes tons of gameplay, a plethora of Marvel characters, a great presentation, and successfully balances the action and RPG elements, while letting players choose just how much they want to micromanage.

Marvel Ultimate Alliance is certainly worth picking up. With an adequate campaign and more playable comic book characters than you can shake a stick at, plus bonus side missions for all of them, you're definitely getting more than what you paid for.

Non-stop beat-'em-up combat. Marvel: Ultimate Alliance is unquestionably the best action/RPG available for PSP. It's exciting, addictive, and very well paced.

This is the best comic-book beat-em-up from Activision to date, with a huge list of characters to choose from, many villains to defeat, and the ability to go at it solo or with friends.

This is definitely the greatest example of comic book fan-service ever conceived, but the gamer side of my brain has too many issues with the title to let it off the hook for those reasons alone.
A great game that sometimes falls back because of a hard-to-find/ do puzzles, but scarcely ever stops from being one of the reasons I own a PSP.

Great game. Tons of game play long after you complete the main storyline. So many options and characters that it never gets old, even with

repeated plays (hopefully on greater difficulty). So many unlockables. A must-have for any comic book fan. Kept me entertained on my throughout my 2-hour summer train commute. I tried other games and when they got old I kept coming back to this one.

…

Expand

An amazing game and a huge love letter from Marvel to fans, this is all made better when put onto a PSP, and even with extra game modes and

characters. Pick it up. Now.

…

Collapse

There's a few things that let the package down, but Marvel: Ultimate Alliance isn't anything short of amazing. The main draw here is the

character managing; a leveling up system for your heros which includes managing items, levels, stats and your team abilitys. This is extremely addictive and will keep you coming back regularly. Once you get to the end of the game and you have your pretty much unstoppable hero. Its an amazing game, once it kicks off. The game is very slow to get started and figure out how to do everything. The story here is pretty solid. It'll give you reason for doing this actions and there's plenty of choices to be made that will effect the end outcome in the end of the game. You won't even notice you make the decisions. If you're an **** throughout the game by the end you'll have an apocalyptic future which really had no major link to the main story. But luckily you'll be able to travel around the game world undoing your wrongs. The only big issues I have with this game is the graphics and the slow pace of the story. But both emend themselves by the end of the game.

…

Expand