Publisher:

Namco

Release Date:

Mar 21, 2006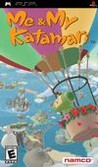 Summary:

Taking a break from celestial construction, the King of All Cosmos takes the royal family on vacation to a tropical island paradise, where they become tasked with the responsibility of creating new katamari islands for homeless animals. An epic undertaking of this time, earthly proportions,

the King calls upon his pint-sized son, the Prince, and all of his cousins for help. New features found in Me and My Katamari include: Wireless play for up to four people on the PSP system; A cast of playable characters that includes the Prince and his cousins – a mix of familiar faces and new additions; A host of customization options for player characters, including new masks and headgear, as well as the ability to wear them on the head, face and body; A new island interface that highlights player options and the different stages represented by animals in need of new homes. [Namco]

…

Expand

Developer:

Namco

Genre(s):

Fantasy

# of players:

1-4

Cheats:

On GameFAQs

Rating:

E
The title, although a bit short in the level variety, certainly is worth its price in other content, including one of the best senses of humor to be found in a game.

Me and My Katamari disappointed me just a wee little bit with it's limited level variety and frequent mid-level load times, and because of these faults the game isn't as great as it could've and should've been.

That it's the same game as before – albeit with new levels – isn't that important; that you can take it with you wherever you go and enjoy it at virtually any time is. [JPN Import; Mar 2006, p.108]

Weird and funny. It suffers from clunky controls and PSP's small screen. The special missions are a nice addition, but overall thte game is too repetitive. [Aug 2006, p.53]

If you love the personality and the gameplay of the series, you'll find it all here. And if you've never played a Katamari game before, you're in for a wonderful surprise.

If you're willing to relearn how to roll a Katamari and put up with some thumb strain Me and My Katamari brings everything you love about the series on the PSP. [JPN Import]

The lack of variety in the levels was a major factor. But even more so was the constant loading and unnatural, abrupt transitions.
Totally addicting...unique control scheme.

This is my first exposure to Katamari after hearing about it so much. I love it!!! It is so original and whimsical, and fun!!! When people

throw around the criticism that it is repetitive, they are themselves reacting in a repetitive and conventional fashion. It's a game, not life (which can be multifaceted) All games happen to be repetitive in some way or another. If it happens to be a repetition one likes then more often than not, the reviewer doesn't mention the crirticism of repetition. The review can only be as competent as the human being doing the reviewing. They can't all be Da Vincis and Einsteins!!! Trust me. Read my 2008 review of Speed Racer, the movie.

…

Expand

A pretty darned good conversion of the console game. The controls take a while to get used to, but it's a really fun game.

One of my favorite PSP games. Like the first, many people will be bored by the lack of level varity, but upon a good search of each level, it

is clear they are very unique (the small level in particular).

…

Expand

Great game, one of my favorite PSP games. I'm a huge fan of the series. However, the game has several annoying slowdowns and is not

always responsive to the controls during these slowdowns. Still, incredibly fun to play.

…

Expand