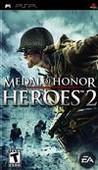 Summary:

It's June 6th, 1944, and the war is in your hands. Step into the boots of OSS Operative John Berg and infiltrate Normandy from behind enemy lines to undermine the Nazi regime. For the PSP, Medal of Honor Heroes 2 will deliver the most comprehensive shooter experience to date on the PSP, with

robust single player campaign and on-the-go 32-player multiplayer capability that allows you to battle it out, anytime and anywhere. [Electronic Arts]

…

Expand
Developer:

EA LA

Genre(s):

First-Person Shooters

# of players:

32 Online

Cheats:

On GameFAQs

Rating:

T
Medal of Honor Heroes 2 is already a better overall effort than last year, though it adds in a ton of event gameplay and diversity in exchange for a relatively short single player campaign, and relies heavily on its online offerings.

If you dig that sort of thing, Heroes 2 offers plenty of challenge, level variety and enough Nazi shooting to satisfy anyone who can deal with the controls of an FPS on a PSP. And if you don't like them, this isn't going to be the game that converts you.

If you want to take on the Germans once again on your PSP then Medal of Honor: Heroes 2 is a good choice.

We suppose if you're really into your WW2 shooters and unlike everyone else in the world has yet to tire of the setting then it's possible that you'll get some joy out of it. Everyone else need not apply.
Heroes are back! This time with true singleplayer campaigne! Long story short - AMAZING FIRST PERSON SHOOTER!

First off let me say that this is definetely the best fps on the psp. It is an improvement from the first one. The graphics are pretty good.

Also the sound is awesome. You can hear every clink as your grenade hits the ground. I have not tried out multiplayer yet but from wut i hear it is really good. The only dissapointment i had from this game is that there is no skirmish. Also i was hoping for some new guns. Another thing was that the enviroments were a little bit bland and could use a little bit of more detail. Other than that this game is pretty good and a descent follow up to heroes.

…

Expand

This game is cleaner"polished" if you will, howver the game play is alot slower, the weapons have completly been revised to shoot more real,

the M1 Garand is like the old shotgun 2 shots you're dead, I love the first, the second will take me some time to adjust too. If you like graphics and realizem try this game out, if you love game play all or nothing choas then stick with the first edition. 6 out of 10 for me due to the major differance between the games, the fact they (EA) had to reinvent the wheel, and there are already hakers in the game of which EA won't do anything about.

…

Expand

Looks pretty but plays awful. FPS on cursor keys with massive amounts of auto aim. You can basically point your gun on the side of the screen

where your enemy is and your gun will lock on. Totally terrible game play and more yawn worthy WW2 settings

…

Expand