Publisher:

Capcom

Release Date:

Jan 31, 2006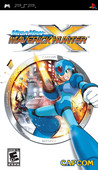 Summary:

Mega Man Maverick Hunter X is a remake of the original Mega Man X title that first appeared on the Super Nintendo Entertainment System. The game builds upon the original, adding newly rendered 3D character models, totally new environments and gameplay features that raise the bar for

Mega Man Maverick Hunter X is a remake of the original Mega Man X title that first appeared on the Super Nintendo Entertainment System. The game builds upon the original, adding newly rendered 3D character models, totally new environments and gameplay features that raise the bar for side-scrolling platformers. Mega Man Maverick Hunter X also includes an animated movie that provides real insight into the Mega Man X universe and even gives gamers a sneak peek at events that took place before the plot line of the first game. Plus to ensure that even the most veteran of gamers is given a real challenge, the level arrangements have been modified; with item locations, map layouts and the strategies needed for completing levels all updated. The year is 21XX. A mysterious robot named X has become the model from which further robots, called Reploids, were created to aid mankind. Unfortunately, some of the Reploids turned against the humans and were given the name Mavericks. In response to this, the Maverick Hunters, an elite squad of Reploids, was formed to combat these renegade Reploids and calm was restored until one of the Maverick Hunters, a powerful Reploid named Sigma, turned against the peacekeepers. Now X and his fellow Maverick Hunter friend, Zero, must prevent Sigma from executing his evil plans to destroy humanity. [Capcom]

…

Expand
Developer:

Capcom

Genre(s):

Action

,

Platformer

,

Platformer

,

2D

,

2D

# of players:

1 Player

Cheats:

On GameFAQs

Rating:

E10+
Capcom goes above and beyond with the new Vile mode, an additional difficulty level, remixed music, a thirty minute animation, and the Mega Man Powered Up demo. Even better, Mega Man Maverick Hunter X carries an MSRP of $29.99, $10 less than most new PSP games.

With wonderful aesthetics, some cool extra features, a budget price-point ($30 or so), and short loading times, Maverick Hunter X is one of the most pleasant experiences on the PSP.

Capcom has taken an extra step in ensuring that this is more than a quick remake with flashier graphics.

Veteran players can look forward to the challenges of Vile mode, while newbies will discover a faithful remake of one of the best platformers on the SNES. Yeah, $30 sounds about right.

A reminder of everything that was great about the series, including the superb control and beaming visuals and sound presentation, and it throws in some new goodies to keep fans shooting well into the future.

A pretty picture to look at and a port of an excellent Super Nintendo action title. On the other hand increased slowdown and its short length will restrict Irregular Hunter X strictly to Mega Man maniacs. [JPN Import]

With a few adjustments this could have been something special. As is, it's a bland, archaic mess.
This game is brilliant in every way. It's by far the best game on PSP, and it is for the PSP what New Super Mario Bros. is for the DS,

This game is brilliant in every way. It's by far the best game on PSP, and it is for the PSP what New Super Mario Bros. is for the DS, if not better.

…

Expand

Mega man maverick hunter is best psp game, it has vile as playable who is X's foe and movie the day of sigma where sigma went maverick! Get

Mega man maverick hunter is best psp game, it has vile as playable who is X's foe and movie the day of sigma where sigma went maverick! Get mega man maverick hunter X.

…

Expand

Mega Man Maverick Hunter X is a remake of first Mega Man X installment, which was brilliant. And the remake have added and changed a lot to

Mega Man Maverick Hunter X is a remake of first Mega Man X installment, which was brilliant. And the remake have added and changed a lot to our beloved game, first being the 3D graphics. It certainly looks cool for a PSP game, but I would really want to see it on PS3 with even better graphics, and I don't understand why they decided to make this game for a portable console only. Second addition is a hard mode and a mode, where you can play as Vile, but don't think that it's just a reskin! Vile has three weapons at the same time and you need to select your loadout before entering the stage, and in my opinion it is just a great playstyle, maybe even as good as Zero in Mega Man X4! Third, arranged soundtrack, and IMO it became worse than in the original, but it's still wonderful and very often matches with the situation pretty good (which is strange since some tracks even changed their genre). Fourth, storyline which now is a lot more explained than in the original game, and I really enjoy this one, especially since cutscenes have voice acting in it, and it is just brilliant, maybe even the best in an entire franchise! And the last one are changes to levels: some item positions were changed, and mostly it's OK except the leg upgrade since it gives you dash, the essentional move of the game, and now you can just skip it, unlike in original game; moreover, I don't understand why didn't they make dash an in-built move, because there is no reason to lock it from the player; last levels were changed completelly, and they became a lot better, since there is no dash required to pass these; you also now can exit levels even when you haven't beaten them, which is a cool addition to the game in my opinion; then there are some minor changes to the levels, but they are so minor that even if they are negative it doesn't matter.

So, which is better - original or remake? They all are equally good for me, each with their minor downsides, and it's up to you to decide (if you ask me, I enjoy the original more, since I like music there more, and no, it's not the nostalgia, because I am not a long time Mega Man X player). What sucks is that this game sold poorly, so we will never see MMMHX2-6, even though they all were planned. I really hope that Capcom will port this game to new generation consoles and PC with better graphics and then recognise how many people love this game and want to buy it. I recommend anyone to play this game, even if that will be your first Mega Man X game.

…

Expand

This is the great return of Mega Man X. Sure not as great or memorable as the first 5 games but sure is still fun and great. Capcom knew how

This is the great return of Mega Man X. Sure not as great or memorable as the first 5 games but sure is still fun and great. Capcom knew how to fix up Mega Man X.

…

Expand

Very fun game, challenging and frustrating, but worth it once you collect the parts and whomp on the bad guys. I had fun with this and would

Very fun game, challenging and frustrating, but worth it once you collect the parts and whomp on the bad guys. I had fun with this and would certainly recommend it to mega man fans.

…

Expand

Remaking games is limited this days , and Mega Man X MH is worth checking out. For starters and Mega Man X veterans this needs to be in your

Remaking games is limited this days , and Mega Man X MH is worth checking out. For starters and Mega Man X veterans this needs to be in your list now that the PSP doesn't have to many games.

…

Collapse

Its about as good as the title makes sense. Its not quite as good as others in the series. It suffers from enemies that take too many hits.

Its about as good as the title makes sense. Its not quite as good as others in the series. It suffers from enemies that take too many hits. The stages aren't very long. The bosses are too hard. You can latch onto walls to make the platforming a little easier. This doesn't make the gameplay good. I think its mostly the level design and enemies that need some balance. It just feels empty playing this type of game.

…

Expand
| | |
| --- | --- |
| 22 | |
| 13 | #13 Most Discussed PSP Game of 2006 |
| 17 | #17 Most Shared PSP Game of 2006 |