Publisher:

Konami

Release Date:

Mar 22, 2005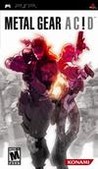 Summary:
Offering gameplay based on strategy and sharp decision-making skills, Metal Gear Acid is a turn-based, tactical espionage game requiring players to collect cards and strategically construct their own decks to complete various missions and objectives. Metal Gear Acid takes place in 2016 on Lobito Island, located in the fictitious Tejan Republic of South Africa. Players once again take the role of Solid Snake, the famed top-secret agent, who has been called out of his retirement when a plane is hijacked over U.S. airspace. Tasked with infiltrating an unknown terrorist organization holding passengers hostage thousands of feet in the air, players must diffuse the situation to save hundreds of innocent lives. While playing through the game, Solid Snake encounters numerous dynamic characters, including a new playable female heroine. Players will have the ability to strategically control both Solid Snake and the new female character to defeat their enemies. [Konami]
| | |
| --- | --- |
| Rating: | M |
| Developer: | Konami |
| Genre(s): | Strategy |
| Number of Players: | 1-2 Players |
| ESRB Descriptors: | Blood, Language, Suggestive Themes, Violence |
| Offline Modes: | Competitive |
| Connectivity: | Wi-Fi |
Designer/Producer/Programmer credits provided by
GameFAQs
.
If you contributed to this game and feel you should be credited, please read our
FAQ
.
| | |
| --- | --- |
| | |
| | #6 Most Discussed PSP Game of 2005 |
| | #19 Most Shared PSP Game of 2005 |