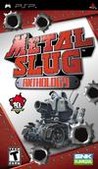 Summary:

SNK Playmore, in celebration of the 10th Anniversary of their classic arcade franchise Metal Slug, releases the greatest array of Metal Slug titles ever assembled for the PSP including Metal Slug, Metal Slug 2, Metal Slug X, Metal Slug 3, Metal Slug 4, and Metal Slug 5. The METAL SLUG

COLLECTION is a "perfect translation" of the arcade classics and features Wireless support for intense two-player action. [SNK Playmore]

…

Expand

Developer:

Terminal Reality

Genre(s):

Compilation

# of players:

1-2

Cheats:

On GameFAQs

Rating:

T
Fantastic fun converted perfectly to Sony's handheld. All the Metal Slug you could ever want. [Issue #150, p.86]

Metal Slug Anthology is the ultimate collection of the seven most intense run-and-gun video games ever made.

A complete package for any fan of the addictive shooter even with the annoying load times that show up often. Still, it's hard to ignore the action-packed collection that is still just as fun as the day you plucked that first quarter in the arcades.

It's a phenomenal value, with $1400 worth of Neo-Geo arcade bliss in a $40 package, along with a few extras and two-player compatibility.

Metal Slug Anthology offers seven amazing games for the price of one, quite a deal when you consider that just one of these Metal Slug games ran for well over $200 on the Neo Geo. There are a few lengthy load times to worry about, but other than that this makes for a near perfect collection of some of the best 2D action games ever made.

It's entertaining, amusing and its screen-filling boss battles are impressive, but it's completely throwaway. [Dec 2006, p.96]

Metal Slug Anthology was supposed to be one of the portable system's A-list titles. Instead, due to reasons that probably couldn't have been helped, it ends up being one of the system's biggest jokes.
Metal Slug Anthology on the PSP is a perfect port from the PS2 version. Seven games all bundled in on one ultimate Metal Slug collection. The

best part of this version is that you get to take it on the go and play it everywhere.

…

Expand

An excellent collection for PSP showcasing some of arcade gaming's finest moments. a great value package including seven games which can

be saved at any time-despite additional loading times this is brill.

…

Expand

I love Metal Slug, and this is a fine collection of all the games. But nothing beats Metal Slug on old Arcade Machines, were you had to pay

for every time you died.

…

Expand

This is great fun to play and reminds me so much of the enjoyment I used to have in the arcade. It also amazes me at how much money, as kids,

we must have pumped in to these machines. The main problem with this game is that after a while you stop caring about how to survive an enemy and just die to get hand grenades back to kill them quicker. This is because the levels are just too hard to complete without dying and the aim of trying to survive whole levels in order to save the captives is just ridiculous. I would love to see how to how the creators thought it was possible to kill the bosses without dying at least 5 or 6 times. Overall I think this is great button crunching fun but after you have finished each game the liklihood of replaying them is very low.

…

Expand