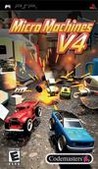 Summary:
Mixing miniature mayhem with maximum multiplayer racing, Micro Machines v4 features knockabout, breakneck racing in the fastest scale miniatures, complete with explosive weapon power-ups. Letting you loose with hundreds of vehicles, each with distinctive performance abilities, you'll be racing your inch-long miniature motors on the wildest tracks where everyday household objects appear immense in size and can become lethal hazards. Sport cars, street racers, stock cars, 4x4s, beach buggies, lowriders and muscle cars are just some of the Micro Machines models you'll be taking out on the improvised tracks around the Micro Machines house, garden and - for the first time - beyond. Spin out around the breakfast table littered with cereal spills, tear through the kitchen but avoid literally burning tyre rubber on the blazing hot cooker, turbo boost around the pool table (while avoiding the treacherous pockets), or hit the gas as you drive around the rim of the bath, carefully negotiating the ferocious waters pouring over the edge of the bath (because someone left the tap running). [Codemasters]
| | |
| --- | --- |
| Rating: | E |
| Official Site: | http://www.codemasters.com/micromachines/ |
| Developer: | Supersonic Software |
| Genre(s): | Racing |
| Number of Players: | 1-4 Players |
| ESRB Descriptors: | Mild Cartoon Violence |
| Offline Modes: | Competitive |
| Connectivity: | Wi-Fi |
Designer/Producer/Programmer credits provided by
GameFAQs
.
If you contributed to this game and feel you should be credited, please read our
FAQ
.