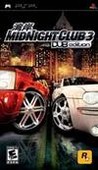 Summary:
The open, living cities of San Diego, Detroit, and Atlanta are available in the PSP version, with all of the shortcuts, secrets and side streets. Rockstar Leeds has rebuilt each environment in its entirety. Whether you're just exploring in Cruise mode, looking to shave a few second in an ordered race, or trying to pick the ultimate route in an unordered free for all, figuring out the intimate secrets of these complex maps is a treat that translates perfectly to the PSP. Race the cars you've built in 6-player wi-fi multiplayer action. Prove your driving skills or just show off your creation in a deep selection of Arcade modes. [Rockstar]
| | |
| --- | --- |
| Rating: | E10+ |
| Official Site: | http://www.rockstargames.com/midnightclub3/ |
| Developer: | Rockstar San Diego, Rockstar Leeds |
| Genre(s): | Driving, Racing, Simulation, GT / Street, GT / Street, Automobile |
| Number of Players: | 1-6 Players |
| ESRB Descriptors: | Mild Language Mild Violence |
| Offline Modes: | Competitive Team Oriented |
Designer/Producer/Programmer credits provided by
GameFAQs
.
If you contributed to this game and feel you should be credited, please read our
FAQ
.
| | |
| --- | --- |
| 26 | |
| 13 | #13 Most Discussed PSP Game of 2005 |
| 13 | #13 Most Shared PSP Game of 2005 |