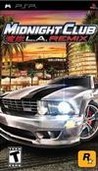 Summary:

Midnight Club: L.A. Remix has been optimized for portable gameplay with faster races and reduced load times. Customize your ride with body kits, paint styles, rims and vinyls that let you put your inimitable style on display and intimidate the competition. Realistic damage modeling shows the

effects of crashes and smashes. Experience L.A. in stunning realism as you race to the tune of an all-star soundtrack featuring pulse-pounding songs. Take control and rule the streets in this portable racing powerhouse.

…

Collapse
Developer:

Rockstar London

Genre(s):

Racing

# of players:

1-4

Cheats:

On GameFAQs

Rating:

T
Impressively, the game takes full advantage of the PSP's analogue stick giving it an incredibly responsive feel. You're given a sense of total control over each vehicle and the subtle nuances between the cars and bikes are instantly apparent.

LA Remix is a luxury racing game. A lot of that comes from the excellent controls and the toned down difficulty.

Innovative only in its exceptional presentation, L.A. Remix is nevertheless a fast and furious jaunt through not one but two massive bergs, and it does just about everything a city racer could ever be expected to do within the miniaturized PSP environment. Despite its few foibles, this is a keeper.

Midnight Club: LA Remix is geared more towards tuners than casual gamers.
A great game. No doubt! Loading times are pretty long, but not a problem if you are playing it off your memory stick.

If other developers put half the effort that Rockstar do into psp titles then I'd be a very happy bunny. This is the first of the Midnit

e Club titles I've played so I can only judge it on its own merits. I love it. Brilliant soundtrack and effects and wonderful presentation, graphics and gameplay make this one of the best driving games I have played yet. Time will tell whether I tire of it but for now I am absolutely loving this - 8/10.

…

Expand

If you don't consider the long and quite often loading times (depending on how often you enter a race, otherwise the city is totally open), th

is is one of the best, if not THE BEST racing game for the PSP. The voice acting (yes, it has voice acting!) is at it's best and fun to hear now and then, and the soundtrack is top notch (but that's not surprising, being a Rockstar game). All in all if you're looking for a challenging racer look no further. Owners of the previous Midnight Club for the PSP might have fewer reasons, though, because it is almost the same, only with two different cities. I have them both :P

…

Expand

I have only played this for an hour or so, but I can give this game at least a 7 for a few reasons. Amazing soundtrack; all the latest from t

he hardcore dance scene. Smooth gameplay and decent destructible system. It does say show your doors and hood flying off like in games such as Flatout or Burnout. But it does have what seems to be more realistic physics. On the downside, it's very strange that there is these mariocart style power ups though. One minute I'm playing this street racing title, and the next I am 'shocked' by my opponent causing my controls to be inversed!

…

Expand