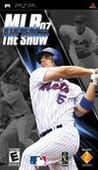 Summary:

MLB 07 The Show for the PSP system continues to be a fan favorite with its core features and ability to play anytime, anywhere, on the go. Plus, sports fanatics can utilize the PSP system's online news service to get the latest MLB news feeds online or save them to the Memory Stick Duo and r

eview them offline at their convenience. [SCEA]

…

Expand
Developer:

SCEA San Diego Studios

Genre(s):

Baseball

# of players:

2 Online

Cheats:

On GameFAQs

Rating:

E
MLB 07 adds even more to the series' traditionally strong network support. In addition to Infrastructure and Ad Hoc games and leagues, you can also pick up roster updates and MLB news. Perhaps the coolest thing here though is the real-time gamecast support that lets you follow games in progress. Talk about a baseball fan's dream feature.

If you are a baseball fan and own a PSP you need to give your head a shake if you haven't picked this one up yet.

In 2007 the focus has been placed on the mound with improved artificial intelligence and new features and controls.

For someone who is not a die-hard baseball fan, I really enjoyed this game. I can only imagine that if I was crazy for baseball this UMD would only leave my PSP in a year's time when MLB'08 was released.
A fun game. Everyone that's borrowed my PSP has loved the game. Road to the Show is fun to play, a rare career mode I've stuck with

for more than an hour.

…

Expand

Road to the show mode gives you the feel of a real big leaguer.

awesome game, create starting pitcher (show) and work on H/9, K/9, BB/9, and let the good times roll. This game is the closest to a sports RP

G than I have ever seen. And it's on the psp. I'm finally proud that i got a psp!!!!!

…

Expand

I think mlb 07 the show was huge! but I give it an 8 because they could have done more so it's fun but not exactly great! I think they s

hould show all the fans doing the wave or something or make the games look bigger, just like if you are at the game. also, when you trade a player, for example, let's say in the game you trade david wright to the marlins, they should computerize and show the florida marlins cap on david wright when they show david wright's picture. they should also upgrade the graphics of the game a little more for ps3.

…

Expand