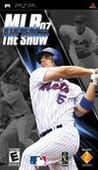 Summary:
MLB 07 The Show for the PSP system continues to be a fan favorite with its core features and ability to play anytime, anywhere, on the go. Plus, sports fanatics can utilize the PSP system's online news service to get the latest MLB news feeds online or save them to the Memory Stick Duo and review them offline at their convenience. [SCEA]
Designer/Producer/Programmer credits provided by
GameFAQs
.
If you contributed to this game and feel you should be credited, please read our
FAQ
.