Publisher:

Capcom

Release Date:

May 23, 2006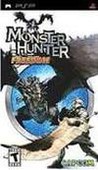 Summary:

Non-stop adventures await you in the land of ferocious bloodthirsty beasts. Experience breathtaking graphics, immersive gameplay and action packed battles. Master a dynamic, ruthless world and carve out a name for yourself. Multiplayer action allows players to join hunting parties to bring

down the beasts. Choose from tons of different and exciting quests to complete. Hunt alone or with up to four players in Ad Hoc mode. Customizable characters give each player unique experiences. Become a "treasure hunter" in a two player co-op game – Collect and deliver treasures in this fast paced timed game. New Felyne Kitchen – hire feisty chefs to produce unique meals to help enhance your abilities. [Capcom]

…

Expand

Developer:

Capcom

Genre(s):

Role-Playing

# of players:

1-4

Cheats:

On GameFAQs

Rating:

T
You'll find yourself unable to stop. Monster Hunter Freedom is just that addictive, and just that dangerous. [May 2006, p.56]

It's Capcom's welcome variation on conventional RPG's, the difference being that you don't really go anywhere. [Sept. 2006, p.81]

It's a lot more game than you'd expect from your average handheld title, and one that transcends the usual, disposable nature of portable games.

Monster Hunter Freedom is an improved experience over its PS2 single player counterpart but you won't get the most out of the game until you can find some hunting buddies and really give the multiplayer a proper workout.

Despite an almost abandoned lobby when trying to play online, something tells me that Monster Hunter Freedom has so much more to offer once a larger community of gamers get hold of it.

By neglecting to address the fundamental problems of the original and slicing out the online play, Monster Hunter Freedom negates the few improvements it makes to its PlayStation 2 predecessor.

Monster Hunter: Freedom tries to capture the odd, free-form gameplay that made its console counterpart so quirky, but its load problems, aggravating combat, lame AI and lack of online play dulls its blade immeasurably.
Monster Hunter is one of the rare gems in gaming that only comes out once every so often. It's a shame that the series wasn't fully realized

here in the West. This game delivers in spades for fans of collecting, upgrading, and epic beast slaying. This game is not a hack and slash at all and is debatable whether or not it is even an RPG since there are no base attributes to the character. Success and power are accumulated through materialism and violence. Collecting items from the world and beasts around you is how you ultimately craft new weapons and armor which similarly reflect the beasts that they are composed of. Of the 3 MH titles that are available to N. America, Freedom is the one that shows its age the most. Features taken for granted in other MH games like item combining from the convenience of your own chest is not available here. This game starts off a slower pace than the games to come later. I didn't have armor for the first five hours or so until I found monster that had the required materials, however, for hardcore gamers this is hardly a complaint. Working to earn every thing you obtain is part of the thrill of the MH series and this game is no exception. The farm, were you can grow and harvest your own crops, mushrooms, honey, ect. are all available. Multilplayer mode has just as much to offer and more if you can get together 1 - 3 friends. I can't say this is the best example of MH now but it was when it first arrived and for that it deserves a ten, though comparatively I would give it an 8 or so. If your looking for the best version of MH available in the U.S. look no further than Monster Hunter Tri on the Nintedo Wii.

…

Expand